Parliamentary panel finds inhuman condition inside Mumbai's Byculla jail
Updated on Aug 21, 2017 11:14 AM IST
A 20-member team of women MPs which visited Byculla jail last month to study the conditions inside the prison, found inhuman treatment of women prisoners.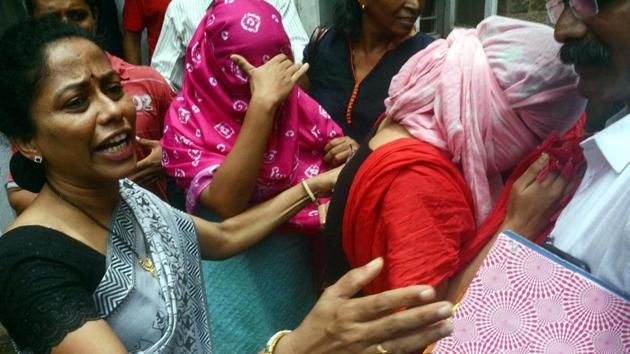 Mumbai's Byculla jail which hit the headlines in June following a riot by inmates, including by former media entrepreneur Indrani Mukerjea, is a hellhole with pathetic living conditions and rampant abuse of rights of women prisoners.
A team of 20 MPs, all members of the Parliamentary standing committee on Empowerment of Women has found that beatings by jail staff at the slightest provocation, disallowing meetings with family members, ants in oil, stones in rice and insects in dal, unhygienic toilets, bad quality soap and sanitary napkins are among some of the glaring instances of rights violation that women inmates inside the jail face.
The women MPs led by BJP MP from Assam, Bijoya Chakravarty, chairperson of the Committee on Empowerment of Women, had visited Byculla jail last month to study the conditions inside the prison, following the death of a murder convict in the facility.
Thirty-eight -year-old convict Manjula Shetye died after she was brutally beaten up by jail staffers when she complained about some food items missing from the morning ration. Six women jail staffers have been booked for the murder. Shetye's death had triggered violent protests leading to rioting by the inmates, including former media enterpreneur Indrani Mukerjea who is accused of murdering her daughter Sheena Bora.
Sources said the women MPs who visited the Byculla jail have requested that the investigation in the prisoner's death be handed over to the CBI as there is an attempt to cover up the incident.
The Byculla jail findings will be part of the report on "Women in Detention & Access to Justice" that the Parliamentary panel is finalizing. The panel members have also visited other prisons across India for their report.
Read more: Mumbai inmate's death: Bombay HC raps cops over probe
"The condition of women inmates inside Byculla jail is so painful. Inmates told us how they are abused verbally and physically for asking for anything, even drinking water. Torture is rampant. They have to make do with inadequate number of extremely poor quality sanitary napkins for their menstrual cycle. Asking for additional napkins results in beating," Satabdi Roy, Trinamool MP and member of the parliamentary committee told HT.
The MPs panel was also told about how normally just two buckets of water are given for a barrack of 50 inmates. Also, each inmate is given one soap a month, that too of poor quality for bathing, washing of clothes and utensils. Inmates have complained of dry skin and itching after using the soap.
The MPs team also found a huge backlog in the cases of undertrials. "There were women inmates who have been in the jail for five years without trial," Roy said.
Many of the inmates told the visiting MPs that they are not allowed to meet their family members. As undertrials they do not know the charges against them, what stage their case is in. They do not have enough information about their lawyers, in cases where legal aid is provided.
"We have spoken to the Maharashtra CM and have raised the issue of poor hygiene inside Byculla jail and the need to improve it. It is not only in Byculla, jails across India need reform. In our report we will be recommending improving conditions inside jails urgently," Bijoya Chakravarty told HT.