Punjab twin IED blasts: 3 more children die of injuries, toll rises to six
Feb 02, 2017 01:11 AM IST
The death toll in the suspected terror attack at Maur Mandi in Bathinda rose to six with three children succumbing to their injuries on Wednesday even as Punjab Police failed to make headway in the twin explosions, in which high-intensity improvised explosive devices (IEDs) are suspected to have been used, and have sought the National Security Guard's (NSG's) help in the probe.
Three more children, who were grievously hurt in the high-intensity twin explosions that occurred during a political road show at Maur in Punjab's Bathinda district on Tuesday night, have succumbed to their injuries at the Christian Medical College and Hospital, Ludhiana.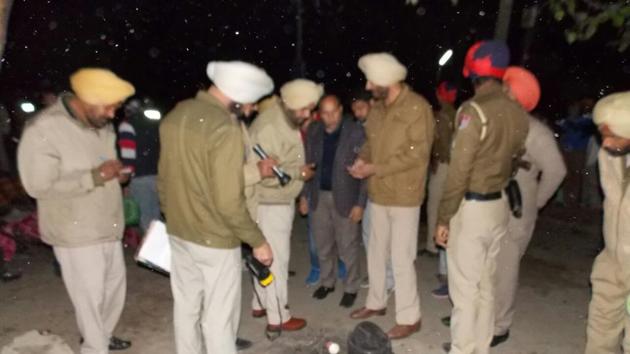 These deaths – which occurred early on Wednesday – have taken the toll in the suspected terror attack, ahead of the state's February 4 assembly elections, to six
Ten critically injured people are still undergoing treatment at government and private hospitals in Bathinda.
A team of forensic and explosive experts has reached Maur, where three people – including a Congress worker – were killed and nearly a dozen injured in the explosion that occurred around 8.30 pm on Tuesday. The road show was being taken out by Congress candidate Harminder Singh Jassi, after he had addressed a public meeting.
The three people who died last night have been identified as Harpal Singh, Jassi's personal assistant; Ashok Kumar, a beggar; and his 10-year-old daughter, Barkha.
The blast took place a few seconds after the Congress nominee's vehicle crossed an abandoned car in which the explosives were placed. Though shrapnel hit Jassi's vehicle, he escaped unhurt.
Jassi is a close relative of Sirsa-based Dera Sacha Sauda head Gurmeet Ram Rahim Singh. The religious leader has been provided Z-plus security because he is on the hit-list of Sikh extremists.
An initial police investigation indicated that the twin IED (improvised explosive device) blasts were set off through remote control. The IEDs were planted in an abandoned car and a scooter parked near the election meeting venue as well as the route taken by Jassi after the rally.
"Nothing can be ruled out. It's also possible that a pressure cooker was used to trigger the blast," a senior police officer said on the condition of anonymity.
A pressure cooker was found near the white Alto, which was ripped apart in the blast. Moments before the incident, announcements were made to move the car because it was disrupting traffic movement. "Both the vehicles sported fake number plates. Even their chassis and engine numbers had been struck off," the officer said.
A close aide of chief minister Parkash Singh Badal told HT that it was presumably "an act of terror".
Read More | AAP blames SAD for Maur explosion, seeks Sukhbir's arrest
The blast has kicked off a blame game, with the Akali Dal as well as the Congress pointing fingers at the Aam Aadmi Party (AAP).
"We have been asking the Election Commission to take note of AAP convener Arvind Kejriwal mingling with extremists. This blast proves that our fears weren't unfounded. Radical elements have infiltrated Punjab in league with the AAP," said Sukhbir Singh Badal, deputy chief minister and Akali Dal president.
The Congress also expressed similar suspicions. "The situation here is volatile, with the entry of AAP-sponsored outsiders. What's more, the criminal gangs have been given a free hand by the Badal government to create mayhem during the polls," said party president Captain Amarinder Singh.