Rahul Gandhi's 'Amma... er Indira Canteen' gaffe not the first. Read more here
Updated on Aug 17, 2017 02:07 PM IST
Congress vice president Rahul Gandhi had a slip of the tongue during the launch of Indira Canteen, which will serve subsidised food, in Bengaluru on Wednesday.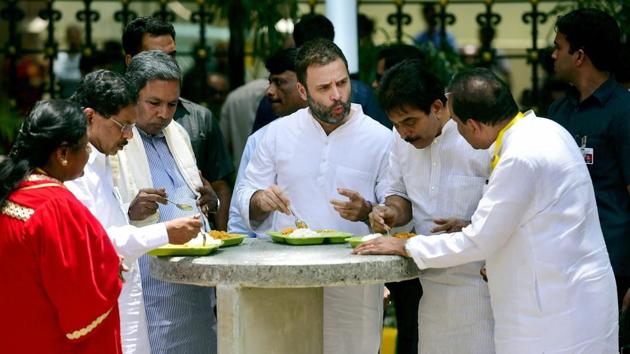 Hindustan Times, New Delhi |
Saubhadra Chatterji and Aurangzeb Naqshbandi
Congress vice president Rahul Gandhi is in the spotlight after he accidentally referred to the Karnataka government's subsidised food served through Indira Canteen as Amma Canteen, a similar scheme run in neighbouring Tamil Nadu. In his speech, he also implied that Bengaluru, the capital of Karnataka, was a state.
"And soon, over the next couple of months, every single city in Bangalore, every single poor person in every single city in Bangalore will feel that in the state of Karnataka under Siddaramaih ji's government I simply cannot go hungry," he said inaugurating an Indira Canteen on Wednesday.
The Gandhi scion has made similar bloopers that were misconstrued or made fun of by his critics. Here are some examples:
"This morning, I got up at night."
He made this comment in 2013 during a speech after being made the Congress's vice president. Gandhi was referring to how his mother woke him up around 1am to share her fears about being in a position of power.
"Izzat ki aapki? Bhrashtachar kiya. Sorry, balatkaar kiya (Did they respect you? They indulged in corruption. Sorry, I meant they raped)."
He mixed up between the two Hindi words while addressing women at a rally in Madhya Pradesh. He was speaking on increasing crimes against women in the BJP-ruled state.
"Gujarat is bigger than UK. In fact, India is bigger than Europe and USA put together."
It wasn't clear if his point of comparison was on population or geography. He made the comments in Ahmedabad where he was telling party workers that Gujarat had the potential to be greater than it was under Narendra Modi as chief minister.
"Poverty is just a state of mind. It does not mean the scarcity of food, money or material things. If one possesses self-confidence, then one can overcome poverty."
Gandhi was addressing people at a programme on poverty organised by social scientist Badri Narayan in Allahabad. Many saw the remarks as insensitive.
"We asked their minister about 2 crore jobs. Their minister replied that the government provided 1 lakh jobs. It means, in the entire nation, 1 lakh people didn't get job."
He said this at a farmers' rally in July in Rajasthan. He probably meant that 199 lakh people did not get jobs that were promised by the Narendra Modi government.
Personalise your news feed. Follow trending topics