Researchers to revisit Harappan tech for modern use
Updated on Oct 07, 2017 07:29 PM IST
The researchers claim that the Harappans had perfected most of the technologies of their time which are still being used.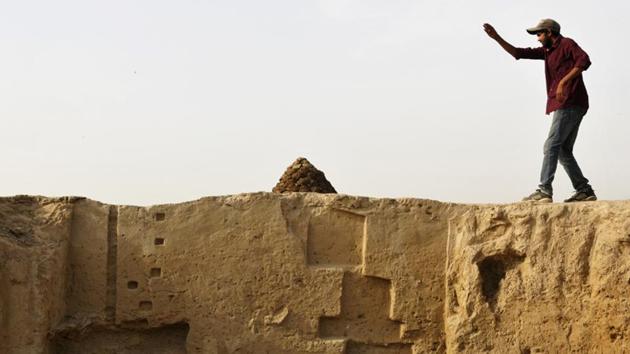 Hindustan Times, New Delhi |
, New Delhi
Sanjeev K Ahuja
A group of researchers from across the country are revisiting 5,000-year-old technologies used by Harappans, including water management, in a bid to learn from the lost Indus Valley civilisation for use in modern times.
The researchers claim that the Harappans had perfected most of the technologies such as stone-beading, crafts production, Indus ceramic technologies, metal and metallurgy, which are still used.
The researchers from Deccan College Pune, Banaras Hindu University (BHU) Varanasi, M S University Baroda, Allahabad University, JRN Rajasthan Vidyapeeth Jodhpur, Archaeological Survey of India and Indian National Science Academy recently gathered in New Delhi for the purpose.
Prof D Balasubramanian, chairman of research council for history of science, said the researchers will relook at the science, technology and innovations that happened in ancient India in 3,000–4,500 BC or 5,000-6,000 years ago.
"Everybody talks about Italy having viaducts but we had it earlier than them," he said, recalling that people in in Gujarat had Baori or step-wells that were interconnected through viaducts 6,000 years ago.
Prof Vasant Shinde, vice-chancellor, Deccan College of Post Graduate Research & Training, Pune, said certain technologies continued from 5,000 years to modern times, "till 30 years back".
He highlighted the continuation of pottery-making, stone-making in Khambat region of Gujarat besides the cold hammering technique in metallurgy.
On water harvesting, Prof Shinde said the present generation is doing a lot to deal with water scarcity but are not learning "from Harappan ancestors who had devised simple and effective tech".
"We can use water harvesting the way they did it. They dug underground water wells which were interconnected," he said.
The researchers said they would not require foreign collaborations and huge funding from abroad as they have access to better technologies and funds to conduct in-depth studies.
Personalise your news feed. Follow trending topics