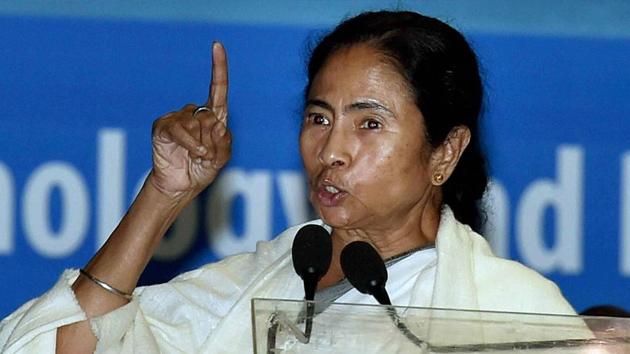 Imam puts Rs 22L 'counter-offer' on BJP leader who put price on Mamata's head
Imam of Tipu Sultan mosque said he will pay Rs 22 lakh to anyone who can bring him the head of the BJP leader who put the price on Mamata Banerjee's head.
Hindustan Times, Kolkata | By Ravik.Bhattacharya
UPDATED ON APR 12, 2017 04:55 PM IST
A Muslim cleric, known for announcing fatwas against political leaders including Prime Minister Narendra Modi and author Salman Rushdie, made a counter-offer of Rs 22 lakh for the BJP youth wing leader's head who announced a reward of Rs 11 lakh for beheading West Bengal chief minister Mamata Banerjee.
Yogesh Varshney, a leader of the Bharatiya Janata Yuva Morcha in Aligarh, announced the price on Banerjee's head following state police action against a saffron rally billed as a show of strength.
The threat came a day after police baton charged hundreds of saffron activists who took out massive rallies in the heart of Kolkata to mark Hanuman Jayanti, highlighting the growing muscle of right-wing forces in a state the BJP barely managed a toehold in the past.
"Mamata Banerjee is our respected leader and I consider her as my sister. I will pay Rs 22 lakh to anyone who brings me the head of the BJP leader. It is expected that fascist RSS-BJP will be speaking the language of hoodlums," Nur-ur Rehman Barkati, imam of Kolkata's Tipu Sultan Shahi Mosque and one of the most influential Muslim clerics in the state, told Hindustan Times.
Banerjee, however, was unruffled by the issue, saying she is regularly targeted with offensive words.
"But, the more they say such things, the more we will progress. From Bengal to Jharkhand to Uttar Pradesh -- we will spread out towards Delhi," Banerjee said at a public rally at Domkal in Murshidabad district on Wednesday.
The issue was raised in both Houses of Parliament by Trinamool Congress members and all major political parties, including the Congress, Left, Bahujan Samaj Party and the Samajwadi Party, and the government condemned the statement.
Party Rajya Sabha member Sukhendu Shekhar Roy highlighted the matter on the floor of the in the Upper House, saying the BJP youth activist publicly described West Bengal CM as a "demon" and announced the bounty.
"There were attempts on her life in the 90s. Later, she was beaten up and dragged by her hairs during various movements during the Left Front regime. These people are misfits in politics and it seems they have opened a dictionary of bad words be it Dilip Ghosh (Bengal BJP president) or this BJP leader from Aligarh," Partha Chatterjee, secretary general of Trinamool Congress, said.
"The BJP leader should be immediately arrested. Why is he roaming free after making such a statement?" added Chatterjee.
Bharatiya Janata Party state president Dilip Ghosh known for his acerbic comments, too, condemned the statement. "Such madness has no place in politics," Ghosh said.
Intellectuals in Kolkata also expressed their shock at the statement.
"How can one say such things? He should be immediately arrested. In which country are we living? One cannot say such things," noted writer Nabanita Deb Sen said.
Debesh Chattopadhyay, theatre personality, said, "It is time people should get together against such religious fundamentalism. This is an attack against democracy."
Varshney made the statement on Tuesday.
"Those who will cut and bring West Bengal chief minister Mamata Banerjee head, I will give that person Rs11 lakh. Mamata Banerjee never allows Saraswati Puja, fairs during Ram Navami and during Hanuman Jayanti procession, people were lathi charged and brutally beaten up. She organises Iftar party and always supports Muslims," Yogesh Varshney, a leader of the Bharatiya Janata Yuva Morcha, told ANI.
West Bengal – where Banerjee returned to power with a thumping majority last year – has seen mounting clashes between state forces and right-wing elements, who say the Trinamool Congress is biased towards Muslims and is anti-Hindu.
The state sends 42 members to the Lok Sabha and is widely considered one of the toughest bastions for the BJP – which has won a string of assembly elections – to breach.
Close