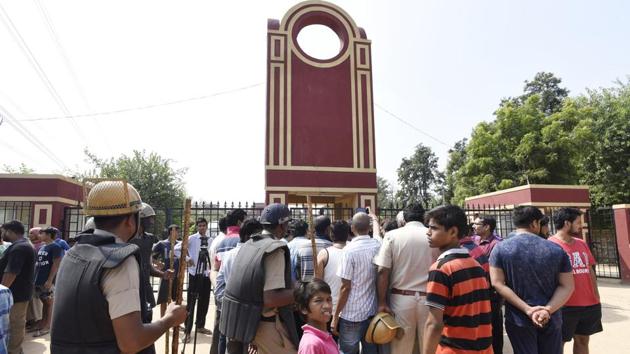 Gurgaon murder: Other cases of students dying due to negligence, foul play at schools
The murder of the Ryan International School student pointed out that though parents end up paying hefty fees to such schools, they can hardly be sure about the well-being of their children.
Hindustan Times, New Delhi | By HT Correspondent
UPDATED ON SEP 09, 2017 04:39 PM IST
Parents and family members are worried after a Class 2 student of Gurgaon's Ryan International school was found with his throat slit in the toilet on Friday.
Hundreds of parents gathered outside the school in protest against the management for their alleged negligence as the police arrested a school bus conductor for allegedly murdering the boy after attempted sexual assault.
The incident once again brought home the fact that though parents pay hefty fees for private schools, they can hardly be sure about the well-being of their children.
In the past, schools have fallen short of being safe havens for children. Incidents of molestation, lewd comments, accidents and deaths of students have been reported:
August 1, 2017: Arman Sehgal, a student of Class 4 at the GD Goenka School, Indirapuram, died after he had a fall on the second-floor corridor of the school complex, outside his classroom.
April 24, 2017: CCTV footage from a camera on the school premises of Kendriya Vidyalaya at Hindon airbase showed that Aryan, a class 8 student, died after being hit by a cricket ball on his head.
Feb 8, 2017: An 11th grader of a prominent Ghaziabad school smuggled a gun into the campus and shot a classmate during lunch break over an altercation. The victim, a student of Dehradun Public School (DDPS) at Govindpuram, was taken to a hospital with a gunshot wound to his waist and is said to be out of danger.
January 31, 2017: Ghazal Yadav, a Class 2 student of DPS World School in Noida Extension died after participating in a Karate competition in the school. Her parents alleged she received injuries during the competition and the school management had delayed medical treatment for more than two hours. The school said Ghazal had complained of severe headache and was taken to Kailash Hospital in Greater Noida.
December 23, 2016: A five-year-old boy studying in a government primary school in Nalgonda district of Telangana died after falling into a vessel of hot sambar which was being prepared for the mid-day meal.
January 30, 2016:Six-year-old Devansh Kakrora of Ryan International School, Vasant Kunj, died after he allegedly fell into a water tank. A case of negligence was registered and the police arrested the principal and four school staff.
January 27, 2016: Five-year-old Ankit died after falling into an open septic tank in an MCD school in Kapashera area of south Delhi.
November 17, 2015: Three people, including the principal and a teacher, were arrested after a three-year-old girl was crushed to death in the lift of a private school in Hyderabad's Dilsukhnagar.
August 8, 2015: A Class 11 student died after allegedly falling from a government school building in east Delhi's Gokalpuri area where he studied. The family members of the student said their son was pushed by his friends.
May 22, 2015: A Class 9 student drowned in the swimming pool of a government school in east Delhi's Farsh Bazar area in the presence of coaches. Mukul Sharma (14) was learning to swim under the supervision of two coaches when he drowned in the pool of Babu Ram Sarvodaya School. Many students told the police one of the two coaches was sitting in a corner instead of guiding the students.
August 29, 2008: Fourteen-year-old Mohammed Nadir, a Class 6 student of DPS Mathura Road, drowned in the school's swimming pool. Police ruled out foul play but registered a case of death due to negligence against the school authorities. Investigations revealed Nadir had scaled the gate of the swimming pool area and entered the pool when it was empty.
Close