Sadhvi Prachi wants triple-talaq victims to slap Muslim clerics, adopt Hinduism
Hindustan Times, Bareilly |
HT Correspondent
May 01, 2017 01:57 PM IST
Sadhvi Prachi leader says triple talaq is a means to harass women
The ongoing debate over triple talaq plunged to a new low with controversial Hindu leader Sadhvi Prachi on Saturday suggesting Muslim women who have been divorced by uttering the Arabic word thrice should adopt Hinduism after "slapping" Islamic clerics.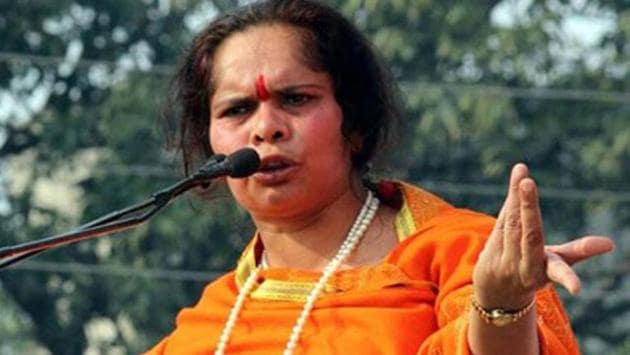 Triple talaq – under which a Muslim man can divorce his wife by uttering "talaq" thrice – has been thrust under the national spotlight after a number of women approached the Supreme Court to ban the practice.
The BJP-led NDA government at the Centre in its affidavit in the apex court opposed the continuation of the social practice.
Terming the practice as a "means to harass women", the controversial leader claimed converting to Hinduism would give talaq victims "freedom from the fear" of getting divorced.
"Aise mahilaon ko maulovio ko tamacha mar kar Hindu dharm mein shamil hon jana chahiye (Those women who have been given talaq must slap the clerics and adopt Hinduism)," she said in Uttar Pradesh's Bareilly on Saturday.
The raging debate over the issue is increasingly getting murkier with many airing their strong views over the issue, which is pending before the top court.
Prachi was in Bareilly to visit Alaknath temple to "offer prayer and thank Mahadev" for the BJP's victory in the state.
Dwelling on another contentious issue of constructing a Ram temple in Ayodhya, the firebrand leader said, no power in the world could stop the construction of the temple at the site, where a Hindu mob razed the 16th century Babri Masjid in December 1992.
She said all the mosques named after Mughal ruler Babur across the country will be destroyed.
On the criminal charges against senior BJP leaders L K Advani, Murli Manohar Joshi and Uma Bharti over the demolition of the mosque, Prachi said if the trio were tried then similar action should also be taken against those who killed the "karsewaks," the Hindu volunteers mobilised for the construction of the temple.
Interacting with media persons, she also reiterated that senior Samajwadi party leader Azam Khan will be sent to jail.
"The state government will investigate the properties of Azam Khan and he will be sent to prison," she said.
On the BJP-led UP government's decision to curtail security of Khan, she said, "Azam Khan is not afraid for his life but for the misdeeds his party government did in the last five years. No security can prevent that sense of fear."