'Sangh goondagardi won't silence us,' says Yechury after Hindu Sena disrupt meet
Hindustan Times, New Delhi |
Shiv Sunny
Jun 07, 2017 06:03 PM IST
Hindu Sena chief says his group members disrupted Sitaram Yechury's press meet to protest against Prakash Karat's article criticising Major Leetul Gogoi's actions in J-K.
CPI(M) general secretary Sitaram Yechury's press briefing was interrupted on Wednesday by two members of the Hindu Sena, a fringe right-wing group, who were protesting against an article criticising Major Leetul Gogoi's actions in Kashmir.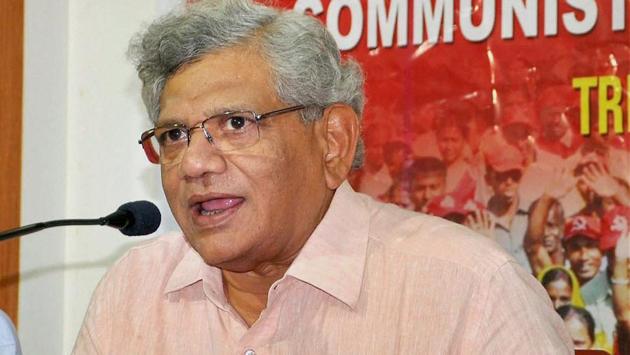 The two have been handed over to the police, ANI reported.
Hindu Sena chief Vishnu Gupta told HT that the two -- Upender Kumar and Pawan Kaul -- had decided to disrupt Yechury's briefing to protest against the newspaper article written by CPI(M) leader Prakash Karat.
Major Gogoi was accused of rights abuse by activists after he tied a Kashmiri man, Farooq Ahmad Dar, to the front of an army jeep on April 9 and paraded him through several villages.
The CPI(M), said Gupta, had been demoralising the Indian Army. He claimed his colleagues were only raising slogans against Yechury and the CPI(M) when they were assaulted by party workers.
"The two men have received injuries and have been taken to Mandir Marg police station. But we will not be cowed down. We will not allow any traitor to speak against the country and the army," said Gupta, adding that he was rushing his lawyers to represent the detained men.
Yechury later wrote on Twitter: "We will not be cowed down by any attempts of Sangh's goondagardi to silence us. This is a battle for the soul of India, which we will win."
A senior police officer said that the exact sequence of events and who assaulted whom needed to be checked.
"We have detained the two men and questioning them," said the officer.