SC revisits order in Kerala 'love jihad' case: How Hadiya case has progressed in courts
Chief Justice of India Dipak Misra questioned a Kerala HC order that annulled marriage between Hadiya, who converted to Islam, and Shafin Jahan.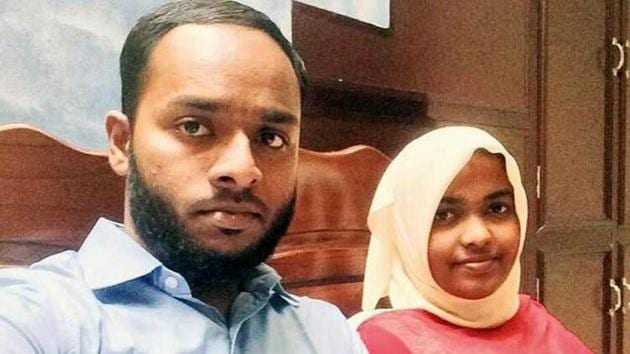 Updated on Oct 03, 2017 01:12 PM IST
The Supreme Court on Tuesday questioned its earlier order directing the National Investigative Agency to probe the alleged forced conversion and marriage of a Hindu woman in Kerala.
In a hearing, Chief Justice of India Dipak Misra questioned a Kerala high court order in May that annulled the marriage between Hadiya, who converted to Islam, and Shafin Jahan. The apex court's u-turn is another twist in the case which sparked a national controversy earlier this year.
Hadiya, who was born as Akhila Ashokan, has been confined to her father's house in Thiruvananthapuram for the past four months after the Kerala high court annulled her marriage. Many rights activists have alleged that she is being tortured by her family.
Here's how the case has progressed in courts:
January 25, 2016: Akhila's father, ex-serviceman Ashokan Mani filed the first habeas corpus petition in Kerala HC alleging that his daughter Akhila was missing from campus and was forcibly converted to Islam. Akhila studied Bachelor of Homeopathic Medicine and Surgery in Salem and Mani's petition named two of her classmates, according to an India Today report.
June 2016: When Akhila was located, she testified that she had converted to Islam of her own free will and had enrolled in a course to study the religion. The Kerala High Court dismissed Mani's habeas corpus petition and allowed Akhila to stay with her friend.
August 2016: Mani filed a second habeas corpus petition, this time alleging that Akhila had been converted to Islam at the behest of the Islamic State.
December 2016: According to the certificates submitted by Akhila, she married Shafin Jahan, 27, in December 2016. Akhila had allegedly converted to Islam and changed her name to Hadiya.
May 25, 2017: The case hit national headlines in May 2017 when, in a highly unusual order, the Kerala HC annulled the wedding on the habeas corpus petition filed by Akhila's father. The court also ordered a probe into allegations that Akhila was forcibly converted and indoctrinated as part of a 'love jihad' conspiracy by the Islamic State.
A division bench of Justice Surendra Mohan and Justice Abraham Mathew ruled that the couple's marriage, which was performed without the approval or presence of Akhila's parents, was "a sham" and held "no consequence" in the eye of law. "Marriage being the most important decision in her (Akhila)'s life can only be taken with the active involvement of her parents," the Kerala high court observed.
August 4, 2017: Akhila's husband Shafin Jahan, 27, filed a special leave petition in Supreme Court challenging the high court order and seeking that Akhila, who is in her father's custody, should be produced before the court.
Jahan's lawyers Kapil Sibal and Indira Jaisingh argued that Akhila, 24, is not minor and should be produced in court.
August 16, 2017: Hearing a petition by Akhila's husband Shafin Jahan that challenged the high court order, the Supreme Court directed the National Investigation Agency to investigate the alleged forced conversion.
The order came after NIA, the country's counter-terrorism organisation, said it was not an isolated case but part of a growing pattern of converting women from Hinduism to Islam.
A top court bench headed by Chief Justice JS Khehar said retired judge RV Raveendran would monitor the NIA probe.
October 3, 2017: In a hearing of the case, Chief Justice of India Dipak Misra questioned the annulment of the marriage by the Kerala high court in May this year. It also questioned an earlier order passed in August by a bench led by former CJI JS Khehar that constituted an NIA probe into the marriage and alleged forced conversion.
"A father can't have control over 24-years-old girl. It might send the girl to a custodian or an organisation," the top court said.
Close Story
Personalise your news feed. Follow trending topics