Scarred by ancient Rajasthan custom, abandoned kids find hope in govt scheme
Hindustan Times |
Rakesh Goswami, Hindustan Times, Deoli/ Uniara
Nov 21, 2016 07:13 PM IST
Nata Pratha, a centuries-old custom in Rajasthan, allows men to live with women they are not married to. Women who follow the regressive practice leave their children behind with their marital families when they go off to another man
Twelve-year-old Jyoti stares listlessly when her emaciated grandmother, Bhanwari Devi Bareth, 60, talks about her ordeal of raising seven children with a paltry Rs 500 widow's pension from the government and some money that she earns by beating a drum in the village.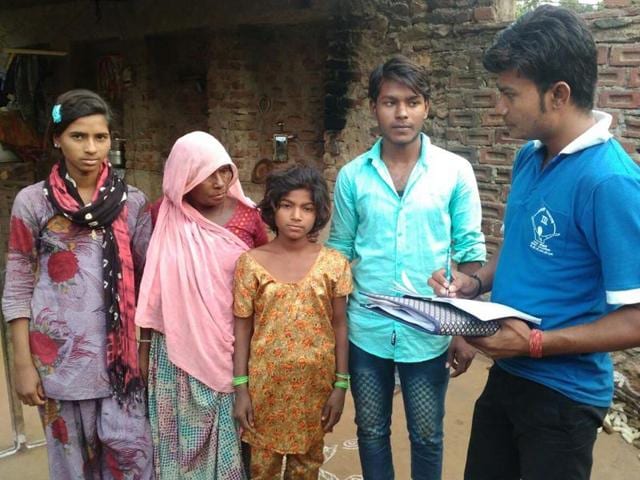 Jyoti's mother – Bhanwari's daughter-in-law – went off to live with another man after tuberculosis claimed her husband's life three years ago.
Nata Pratha, a centuries-old custom in Rajasthan, allows men to live with women they are not married to. Women who follow the regressive practice leave their children behind with their marital families when they go off to another man.
When Jyoti's mother left, she and her two siblings, 10 and 8, became Bhanwari's responsibility. The elderly woman was already raising four children of her daughter, Sanjana, whose husband hacked her to death over a domestic dispute in 2012. The man is in jail.
Pale-skinned Bhanwari wasn't aware of government aid for raising children left by women who follow Nata Pratha which is a social scourge for children left behind by their mothers.
On November 5, volunteers of Ladli Samman (Honour to the girl child) campaign visited the old woman's mud house in Rajkot village in Deoli block, 160 km from the state capital Jaipur, and told her about the Palanhar Yojna, a social security scheme to provide honorarium to families that raise orphans.
Under the scheme, run by the department of child rights (DCR), the family gets Rs 1,000 every month for a child until he/she is 18 years and an additional Rs 2,000 every year for uniform, clothes and shoes. For children below five, the aid is Rs 500 every month.
The scheme launched in 2007, was for orphans who had lost both their parents or whose parents were in jail for crimes but was expanded in 2010 to include one child left behind by women practising Nata Pratha. In March 2013, the government extended the benefit to up to three children of a Nata Pratha woman.
Ladli Samman volunteers filled up forms for Jyoti and her siblings and helped them enroll for the scheme.
Last week, the DCR transferred Rs 3,000 to Bhanwari Devi's bank account. Her daughter's four children were also eligible for the scheme and soon Rs 4,000 more will come into Bhanwari's account.
In four blocks of Tonk, where Ladli Samman campaign is running since September 20 for social awareness and identification of eligible and vulnerable families for social protection schemes, there are many such children.
The campaign, which will cover 120 villages in Tonk, Todaraisingh, Deoli and Uniara blocks of Tonk district in 70 days, identifies deprived families and school dropouts, links them with government social security schemes and helps them integrate into the society mainstream.
The campaign ran in Bundi, Kota, Baran and Jhalawar districts in south-eastern Rajasthan in 2014, and linked 859 children to Palanhar Yojna. In 2015, the campaign ran in four blocks of Sawai Madhopur, Tonk, Jhalawar and Jaipur and benefitted 2,476 children benefitted from the scheme. This year, with a week of the campaign still left, 790 children have already enrolled in the scheme.
The campaign's convener Vipin Tiwari says they follow up the cases even after the campaign ends. "We make sure that these children don't drop out of school for them be remain eligible for the Palanhar scheme," he adds.
Meanwhile, Bhanwari has already said goodbye to the drum and wants to stay home to look after the young ones. A sum of Rs 7,000 a month is more than she could ask for, she says, her wrinkled skin stretching for a spontaneous smile.