Security breach: Speaker forms probe panel, asks Mann not to attend LS
The Lok Sabha speaker also advised the AAP lawmaker Bhagwant Mann to not attend the House till a decision on the matter is reached.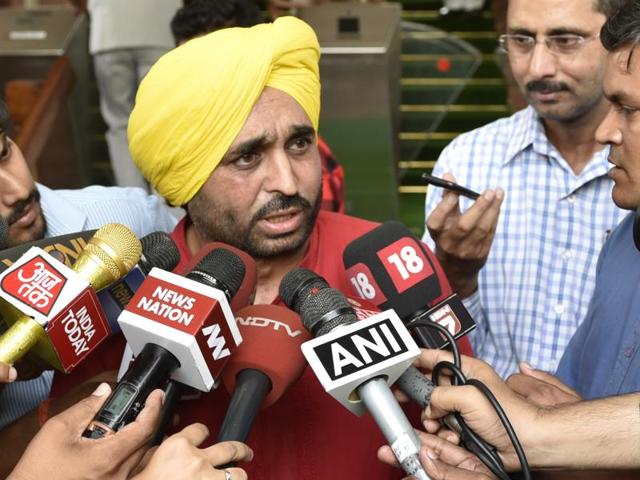 Updated on Jul 25, 2016 09:58 PM IST
Hindustan Times |
, New Delhi
HT Correspondent
Lok Sabha speaker formed a nine-member panel on Monday to look into the controversial video MP Bhagwant Mann had posted to the internet.
Aam Aadmi Party's Mann had caused uproar in both houses of the parliament last week by posting to the internet a video showing the parliament complex and the security detail around it.
MPs called for strict action against what they termed was a violation of conduct, and more importantly, a breach of security.
Speaker Sumitra Mahajan formed the panel after she had last week promised to address the issue, and advised the AAP lawmaker to excuse himself from House sittings till a decision was reached.
"The issue of Mann's video is serious; some kind of action should be taken as 13 people had laid down their lives protecting Parliament," Mahajan had told reporters on Friday, referring to the 2001 Parliament attack.
Read | Delhi Police may book Mann for uploading Parliament video on FB
Mann had apologized for his actions, but fellow parliamentarians have been insistent on his dismissal.
Speaker Mahajan dismissed it as well, saying the matter "beyond apology" when he met her in person.
Deputy chairman of the Rajya Sabha, PJ Kurien also noted the grievous nature of the issue when upper house members joined in the chorus against the MP.
Read | Told not to attend Lok Sabha, Mann says BJP, Akalis, Cong ganged up
In the nearly 12-minute video, Mann says, "I'll show you something today you would not have seen earlier," before he films going through multiple security barricades in his car and then inside Parliament.
He has since pulled down the video from his Facebook page.
Former Delhi Police officer Ashok Chand, who was part of the team that investigated the December 13, 2001 terror attack on the House, told Hindustan Times that Mann's act has seriously compromised Parliament's security and given "a bird's-eye view of the inner layout to anyone who wants to create terror".
Read | Why Bhagwant Mann's video post poses a unique problem for Parliament?
Close Story