Sharia laws: Muslim board to use social media to clear confusion, mulls news channel
May 11, 2017 06:35 PM IST
The board has decided to constitute a special social media committee.
To clear confusion over Sharia laws, the All India Muslim Personal Law Board (AIMPLB) has decided to tread the social media path and also explore the possibility of starting a TV news channel and newspaper.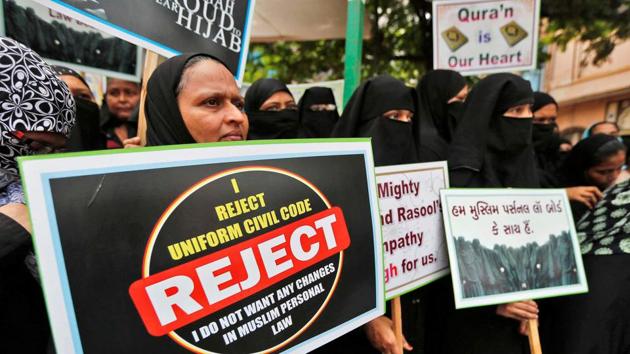 The board has decided to constitute a special social media committee, which will provide clear information about various issues pertaining to divorce, marriage, halala, warisana haq (inhertiance rights) and women's rights among other issues. It will also convey the board's stand on these contentious issues.
Stay tuned with breaking news on HT Channel on Facebook.
Join Now
"Senior office bearers along with a large section feel the medium through which Sharia laws are being criticised, the same medium should be utilised to register our presence and also to present the right picture of things," AIMPLB senior executive member Maulana Yasin Usmani said.
He said in the executive meeting of AIMPLB in Lucknow on April 15 and 16, the issue cropped up and it was decided to form a social media committee.
"For this, the board authorised its chairman Maulana Rabe Hasan Nadwi and general secretary Maulana Wali Rahmani," Usmani said. "The committee is likely to be formed soon. It is quite possible that office bearers of the board, who are active on the social media and have in-depth knowledge about Sharia laws, may be included so that they can immediately respond to queries on the social media and give their reaction."
The board also discussed at its recent meeting the idea of starting a television news channel and newspaper, Usmani added.
"Most of the office bearers in principle had agreed to the idea. But, on the issue of non-availability of the required resources in the current scenario, no decision was taken," he said. "Keeping in mind the present circumstances, the AIMPLB has to take some tangible steps in this direction."
On the issue of absence of Ulama (clerics) on news channels during debates raised by Darul Uloom Deoband, Usmani said, "Generally, it has been seen that news channels have their own agenda and they run their programme accordingly. It is better that Ulamas are not a part of these debates."
The issue of triple talaq has been a hot topic of debate throughout the country.
Several Muslim women organisations have been opposing triple talaq, while AIMPLB was of the view that the system is being misused.
AIMPLB has suggested spreading awareness in the society on the issue.
The board in its executive meeting here last week had declared that a person pronouncing triple talaq without proper Sharia reasons will face a social boycott.
However, the All India Shia Personal Law Board and All India Muslim Women Personal Law Board had termed the move as "inadequate" and said it will not ensure justice to aggrieved women.