Shia group announces Rs 15 lakh bounty on preacher Zakir Naik's head
A Shia group that calls itself the Hussaini Tigers has placed a Rs 15-lakh bounty on the head of controversial TV evangelist Zakir Naik.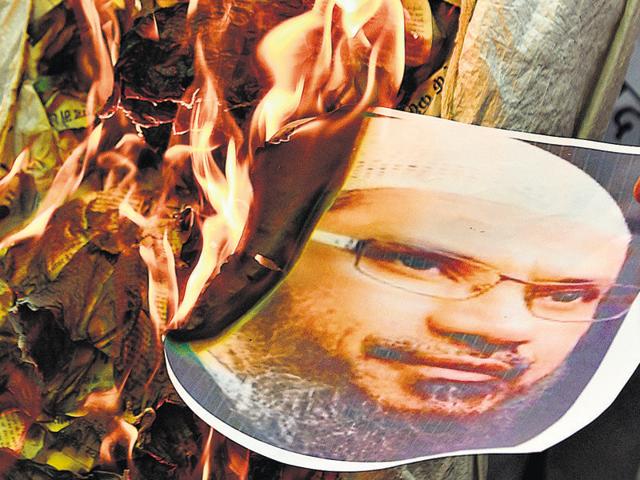 Updated on Jul 12, 2016 11:32 PM IST
Hindustan Times | By M Tariq Khan
, Lucknow
A Shia group that calls itself the Hussaini Tigers has placed a Rs 15-lakh bounty on the head of controversial TV evangelist Zakir Naik.
"He (Naik) is a 'khalnayak' (villain). He has insulted the Prophet of Islam and whosoever kills him would be rewarded not only in life [and beyond]...but would also get cash reward from us," Syed Kalbe Hussain Naqvi, the president of the outfit, said in a Facebook post on Tuesday.
Naqvi is son of senior vice-president of the All-India Muslim Personal Law Board and prominent cleric Syed Kalbe Sadiq.
"Naik is a 'kafir' (heathen). He has insulted the Prophet and radical clerics are defending him saying he has no connection with the terrorists," Naqvi said.
The bounty announced by the Shia leader amounts to criminal intimidation, an offence under Section 506 of the Indian Penal Code that carries a maximum seven-year jail term. Though several political and religious leaders have made similar statements in the past, few were penalised under the law.
"We have not come across such a statement or death threat as yet. But a person issuing such a threat would be booked for spreading hatred and disturbing communal harmony," deputy inspector general of police (Lucknow range) RKS Rathore told HT.
Naik, a doctor-turned-preacher, has long been on the radar of security agencies for his controversial statements, including his support for Osama bin Laden for terrorising the US. But he has come under renewed focus after Bangladesh authorities linked him to the July 1 terror strike on a Dhaka cafe that left 20 people dead, including a 19-year-old Indian girl.
The Mumbai-based cleric has denied the allegation, saying in a video message that while one of the attackers may have been his fan, he has thousands of such followers in Bangladesh.
Naik has come under attack from various quarters for his contentious comments.
Members of the Bharatiya Janata Party's minority cell burnt his effigies on Tuesday. "Naik is misguiding youths and misinterpreting Islam and its tenets. The centre should immediately put him behind bars and order a probe as to where his organisation is getting the funds from," said Shafat Hussain, a member of the BJP's minority cell.
"Naik has repeatedly insulted Hindu deities and should be taken to task," said Shamil Shamsi, president, Muslim Vyapar Sangh.
But Naik also has a legion of fans. Last year, the Saudi king conferred on him the King Faisal International Prize — a $200,000 prize, gold medal and citation — for being a promoter of Islam. Naik's son, Fariq, is studying in Saudi Arabia and also gives speeches about Islam.
Close Story