Shimla Christ Church clock to chime once again
Jul 09, 2016 02:51 PM IST
The clock bells, adorning the town's 150-year-old landmark building, the Christ Church, will start ringing again as the state tourism department is going to undertake the restoration work of the church under a World Bank-funded project
The clock bells, adorning the town's 150-year-old landmark building, the Christ Church, will start ringing again as the state tourism department is going to undertake the restoration work of the church under a World Bank-funded project.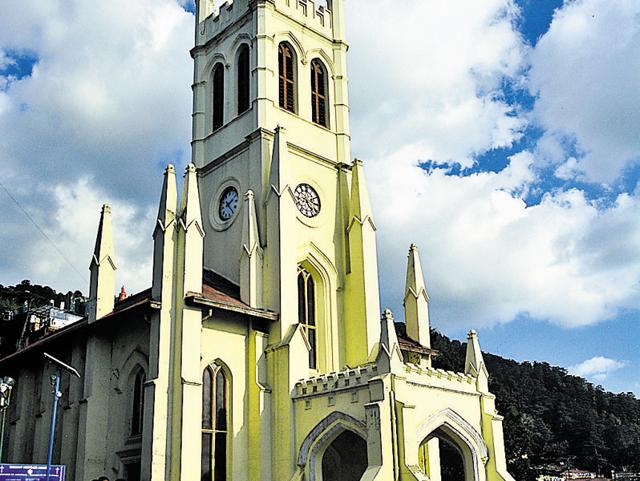 The church, the second oldest one in north India, situated at the Ridge, was constructed in 1857 in the neo-Gothic style. It was built to serve the Anglican public during the British era when Shimla was the summer capital of the Britishers. The clocks, adorning the church, were donated by Colonel Dumbleton in 1860.
The church had, in fact, been crying for restoration for the past two decades and the locals as well as members of the Christian community had also called on the chief minister urging him to arrange repair of the church.
"There was already a plan to repair the landmark building with the help of the World Bank. The World Bank has sanctioned a project amounting to Rs 5.2 crore for its restoration. The government had carried out the restoration work seven years ago, but the funds were too meagre to complete the work," said Mustaq, a priest.
He said, "Shimlaites still recall the jingles of the church bells that stopped ringing quite long ago." He said, "I had heard that German volunteers had made an effort to repair the church clocks during the mid- nineties, but they worked only for a few months and later they stopped ticking," he said.
The state tourism department has reportedly contacted some companies in Kolkata that specialise in repairing big church clocks and bells. "We have contacted the companies that repair clocks and bells," said director, tourism and civil aviation, Mohan Chauhan.
Under the renovation plan, both the exteriors and the interiors of the church will be refurbished. The plaster on the exterior of the church has weathered away. The government now plans to change the flooring of the church. The instrument, that used to be played during special ceremonies and Sunday prayers, would also be repaired.
The government has also chalked out a plan to illuminate the church from outside so that the building is visible during the nights.