Shiv Sena MP Ravindra Gaikwad regrets Air India episode
Ravindra Gaikwad, a Shiv Sena parliamentarian, was grounded by major airlines for allegedly assaulting an Air India staffer on board.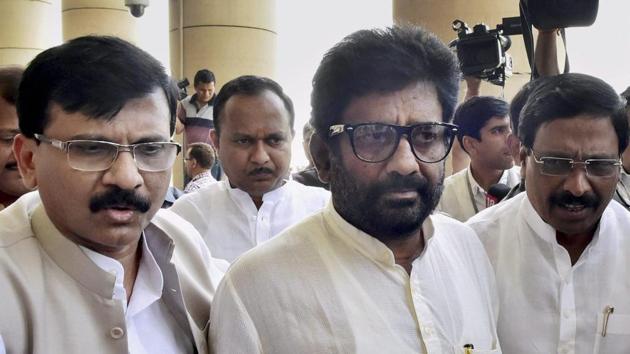 Updated on Apr 07, 2017 08:14 AM IST
New Delhi, Hindustan Times |
Saubhadra Chatterji and Kumar Uttam
Shiv Sena lawmaker Ravindra Gaikwad on Thursday expressed "regret" for his alleged assault of a senior Air India employee, signalling a climbdown by the party hours after it threatened to stall all flights out of Mumbai over the flying ban on the MP.
Gaikwad, an MP from Osmanabad, was banned by six airlines after the incident last month. He also claimed on TV about hitting the Air India employee with his slippers 25 times.
"...This incident may kindly not be seen as a reason for likely recurrence of such an event in future also," the MP said in a letter to civil aviation minister Ashok Gajapati Raju, barely a few hours after Sena lawmakers created a ruckus in Parliament over the ban.
He also said an ongoing probe will "bring out the factual sequence of events to fix responsibility" in the incident, which triggered a wave of revulsion and anger against the MP.
He added that the ban was "affecting the effective discharge of my duties and responsibilities".
Sources said that Air India may soon allow him to fly even as the police cases against him will not be withdrawn. Lok Sabha Speaker Sumitra Mahajan also said that the MPs can't fulfill their duties if there is ban on flying.
The letter, according to official sources, followed a meeting in Mahajan's chamber in Parliament where Shiv Sena MPs were told that if Gaikwad issued a statement committing that he would not engage in any such incident in future, the government could intervene and have the ban revoked.
Earlier in ther day, Gaikwad told Lok Sabha that he was ready to apologise to Parliament but not the airlines and the employee.
"Humility is in my nature," he said, playing the victim and even invoking Mahatma Gandhi to narrate his side of the incident after taking a chartered flight to attend the parliament session for the fisrt time after the incident.
Another Sena leader Sanjay Raut addressed a press conference to announce the party's plan of action as well as defend Gaikwad.
"One airline owner has nexus with (underworld don) Dawood Ibrahim. An airline allowed (former MP) Vijay Mallya to flee from the country. In your flights, separatists, terrorists, Pakistani artistes, rapists can fly but not Gaikwad," Raut said.
The party also threatened to pull out of next week's meeting of the NDA, of which the Sena is a constituent. The Sena is also a ruling ally of the BJP, both at the Centre and Maharashtra.
"You can take it as Sena chief Uddhav Thackeray's decision. If the issue is not resolved, we will not go to NDA meeting on April 10."
Raut's strong comments followed a day of drama in Parliament as Sena MPs charged at the civil aviation minister in the Lok Sabha, leading to a near-commotion before the House was adjourned.
"If you want to defuse the situation, we can do it. If you want to aggravate it, you are free to do that. But aircraft safety will not be compromised," said civil aviation minister Ashok Gajapati Raju.
His comments led to such a ruckus that Sumitra Mahajan adjourned the House temporarily.
"If it (the ban) goes on like this, we will not allow aircrafts to take off from Mumbai," Sena MPs were heard saying amid a ruckus.
Home minister Rajnath Singh said he has requested the civil aviation minister to sit with "all stakeholders to reach an amicable solution as soon as possible."
Gaikwad was grounded after a purported video of him thrashing a 60-year-old AI officer went viral and triggered widespread condemnation, even from within the government.
Air India joined five other airlines to ban the lawmaker and demanded a no-fly list for unruly customers. Since then, the MP has tried to book air tickets under several aliases but has been thwarted every time.
(With agency inputs)
Close Story
Personalise your news feed. Follow trending topics