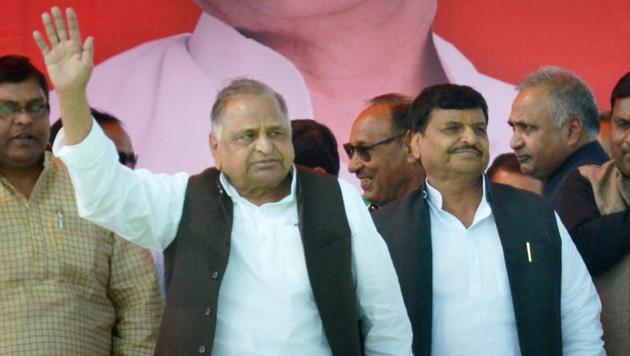 Mulayam says Shivpal didn't speak to him before announcing secular front
Samajwadi Party patriarch Mulayam Singh Yadav's statement comes a day after his brother Shivpal announced that he will form a new front within three months.
Hindustan Times, Lucknow | By Sunita Aron
UPDATED ON MAY 07, 2017 02:08 AM IST
Samajwadi Party (SP) patriarch Mulayam Singh Yadav said on Saturday his brother Shivpal didn't speak to him before announcing the formation of an all-India secular front.
In an exclusive interview to HT, Mulayam said he would talk to Shivpal and pacify him, and that no one in the family or party wanted a split in the 25-year-old Samajwadi Party.
"I have not met Shivpal for the last one week... He has not spoken to me as yet about it (the front)… I will talk to him," a visibly relaxed Mulayam told HT in Lucknow.
"As for the front, he has simply given a statement. I will talk to him, pacify him."
The statement came a day after the 62-year-old Shivpal, former UP president of the party, announced that he will form within three months the Samajwadi Secular Morcha (SSM) that will be led by Mulayam.
Shivpal didn't make it clear if he was walking out of the Samajwadi Party or if the new front will enter electoral politics.
But the SSM's formation was seen as a fresh twist in a months-long battle between Shivpal and his nephew Akhilesh for control of the party – a dispute that was held responsible for the party's bruising defeat in state elections two months ago.
But Mulayam appeared to dismiss any speculation of a split. "Nobody in the family or party want it to split. What will they get if the party divides and weakens?"
"He (Shivpal) is hurt. I don't know why my son Akhilesh Yadav doesn't like him. I will always stand by my brother who has struggled and suffered so much for me and the party," Mulayam said.
Close