Shortage of funds holds back research to find if cow products can cure cancer, say scientists
A string of top institutes across India have invested personnel, energy and money into researching the animal considered holy by many Hindus. But scientists claim lack of funds is the reason for no major breakthrough.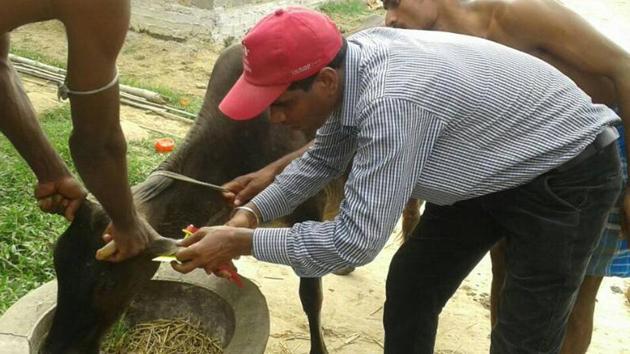 Updated on Jul 23, 2017 02:38 PM IST
Cow derivates is the focus area for research in state-run institutions but scientists claim a paucity of funds has held back research with no major breakthroughs.
That, however, may change soon as the government has set up a national steering committee on Panchgavaya (the mixture of five cow derivates-milk, curd, ghee, dung and urine) for scientific validation of widely held beliefs that cow products can cure diseases such as cancer .
The Council of Scientific and Industrial Research (CSIR) has conducted research in collaboration with the RSS-backed Go Vigyan Anusandhan Kendra, Nagpur, on cow urine distillate for its antioxidant and bio-enhancing properties on anti-infective and anti-cancer agents and nutrients.
"Four US Patents have been secured since 2002 and one pharmaceutical product containing cow urine distillate with anti-oxidant property is available in the market," AYUSH minister Shripad Naik had said in the Parliament.
Scientists at IIT-Delhi have finalised eight proposals to be put before the National Steering Committee led by Union science minister Harsh Vardhan in August. Vijendra Kumar Vijay, the head of IIT-Delhi's Centre for Rural Development and Technology and nodal officer of the programme, refused to comment.
Here is a low-down on cow-related research.
Medicinal properties of Panchgavya
Before April last year, NDRI was known for increasing milk production. But a year on, at least six scientists at the institute, credited for cloning the world's first buffalo calf, are occupied with probing the benefits of cow urine. Halfway through the proposed duration, the unique project has not yielded any results.
"We have studied composition of fats, proteins and biotic products such as urea and creatine in all the five cow derivates. Results of individual products are with us in a rough form," said principal investigator Priyanka Singh Rao.
Traces of gold in cow urine
The biotechnology department at the Junagadh Agricultural University in Gujarat first found gold in urine of Gir (Gujarat) cows in 2016. Over the past one year, research on urine samples of other breeds including Gidd (Karnataka) and Kankrej (Rajasthan) also revealed presence of gold, in the range of 331 parts per billion (ppb) to 38 ppb.
"Samples of 334 Gir, 120 Gidd and 185 Kankrej cows in different phases of lifespan were taken, including adult, calf and pregnant. The urine samples were taken at various times of the day, from morning to night," researcher Dr B A Golakia said.
Antiseptic ointment made from urine
Scientists at Jabalpur's Nanaji Deshmukh Veterinary Science University claimed to have discovered that the urine of indigenous cows has more anti-bacterial and immunity enhancing power compared to cross-breed or exotic cows.
They have used these findings for developing products based on cow urine like antiseptic ointment. The institution has developed ghanvati tablets (which destroy or eliminate parasitic worms in animals).
"Under a research project sponsored under the Rashtriya Krishi Vikas Yojana, we have set up a research centre for the development, production and marketing of various products obtained from indigenous cow urine and cow dung", said Dr YP Sahni, director research services .
A three-month skill development course
Scientists at Mohanlal Sukhadia University (MSU) in Rajasthan's Udaipur are working on a cow therapy centre to educate students about the medicinal values of cow urine and other four elements of the panchgavya – cow milk, ghee, curd, and dung.
The centre plans to offer a three-month skill development course to teach students about the various constituents of cow urine and which one has to be used to cure a disease.
"The cow is a mobile medical dispensary and cow urine is a panacea of all diseases," said a slide from a presentation by professor Prof BL Ahuja, chairman, faculty of science, MSU.
GPS , sensor tagging of cows
After success in milk research, scientists at the Indian Institute of Veterinary Research Institute (IVRI) in Uttar Pradesh's Bareilly have proposed research on GPS and sensor tagging of cows for better management of cow farms and curb theft. "If the GPS sensor is implanted into the rumen of the cattle it will make it impossible for cow thieves to steal the cow for slaughter," said Dr RK Singh, director of IVRI.
(With inputs from Malavika Vyawahare and Rhythma Kaul in New Delhi, Hiral Dave in Ahmedabad, Neeraj Santoshi in Bhopal, Salik Ahmad in Jaipur, Pradip Maitra in Nagpur and Chandan Kumar in Barielly)
Close Story