Sipri shows drop in Russian arms imports by India
Mar 15, 2022 06:10 PM IST
Russia was the largest supplier of major weapons and systems to India during the two comparative five-year periods.
Russia's arms exports to India fell 47% between 2012-16 and 2017-21 even though the deliveries of several platforms including air defence systems and warships are pending, said a report released by the Stockholm International Peace Research Institute (Sipri) on Monday.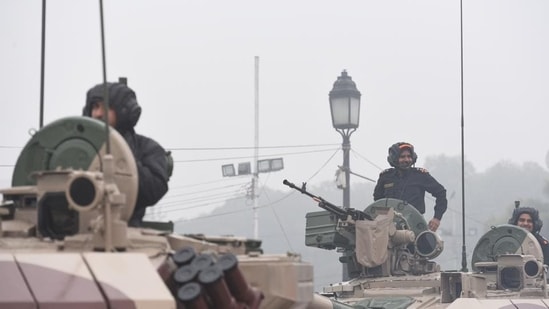 Russia was the largest supplier of major weapons and systems to India during the two comparative five-year periods.
The report said India's overall imports decreased by 21% between 2012-16 and 2017-21 but that it was still the world's biggest importer of military hardware. Russia, France and the US are India's biggest suppliers of arms, accounting for 46%, 27% and 12% of the country's imports in the last five years.
India's share of global arms imports stood at 11% during 2017-21 compared to 14% in the previous five-year period.
The report has come at a time when India's dependence on Russian military hardware , ranging from fighter jets to rifles and submarines to shoulder-fired missiles , has come into sharp focus on the back of the US and its allies slapping tough sanctions on Russia in response to the invasion of Ukraine.
Russia's arms exports dropped 26% between 2012–16 and 2017–21, and its share of global arms exports decreased from 24% to 19%, the report said.
"The overall drop in Russian arms exports between 2012–16 and 2017–21 was almost entirely due to decreases in arms exports to India (-47%) and Vietnam (-71%). While a number of arms export contracts signed over the past 10 years had been completed by the end of 2021, several large Russian arms deliveries are still pending and include eight air defence systems, four frigates and one nuclear-powered submarine to India," the report said.
Though India has been procuring US military hardware in growing numbers, including Apache and Chinook helicopters and P-8I maritime surveillance aircraft, about 60% of the weapons inventory of the three services continues to be of Russian-origin.
"For decades, India was overdependent on Soviet/Russian military hardware. That has changed somewhat in recent years as a result of New Delhi diversifying its weapon purchases and also sharpening its focus on self-reliance in the defence sector. Over the last decade, India has imported major platforms from the US, France and Israel," said Air Marshal Anil Chopra (retd), director general, Centre for Air Power Studies.
The report said India's imports from Russia dropped between the two periods as several large programmes for Russian arms wound down. "This, combined with India's increased efforts to diversify its arms supplier base, meant that Russia's share of total Indian arms imports fell from 69% to 46%. In contrast, India's arms imports from France increased more than tenfold, making it India's second largest arms supplier in 2017–21," it pointed out.
Sipri said India has major plans for arms imports because of perceived threats from China and Pakistan, and due to significant delays in indigenous production. "The drop in India's arms imports is, therefore, probably a temporary result of its slow and complex procurement process as well as its shift in suppliers."
Each of the three services has a raft of Russian-origin weapons and platforms. The Indian Air Force operates fighter jets such as Sukhoi-30s, MiG-29s and MiG-21s, Il-76 and An-32 transport planes, Il-78 midair refuellers, Mi-35 attack helicopters and Mi-17 utility choppers.
The navy's sole aircraft carrier INS Vikramaditya and the MiG-29K fighter jets it operates are from Russia, and so are its Kilo-class submarines, Rajput-class destroyers and Talwar-class frigates.
The army operates Russian-origin T-90 and T-72 tanks, BMP-II infantry combat vehicles, Smerch and Grad multi-rocket systems and several surface-to-air missile systems.
While it is still unclear how the new sanctions against Russia could play out and the problems they could create for the armed forces in the short and long term, the possible impact of Russia's unprecedented economic isolation on India's military preparedness and the serviceability of weapons and equipment is being minutely examined by Indian military planners.
Enjoy unlimited digital access with HT Premium
Subscribe Now to continue reading