Son of Hurriyat faction's new chief missing, social media post claims he's joined Hizbul
Mar 24, 2018 10:33 PM IST
Mohammad Ashraf Sehrai replaced Syed Ali Shah Geelani as the Tehreek-e-Hurriyat party chief on Monday. The Sehrai family reported son Junaid as missing before social media posts about him surfaced.
The family of Junaid Ashraf Sehrai, son of Tehreek-e-Hurriyat's new chief, reported him missing on Saturday morning, barely hours before social media was awash with a picture claiming he had joined militant outfit Hizbul Mujahideen.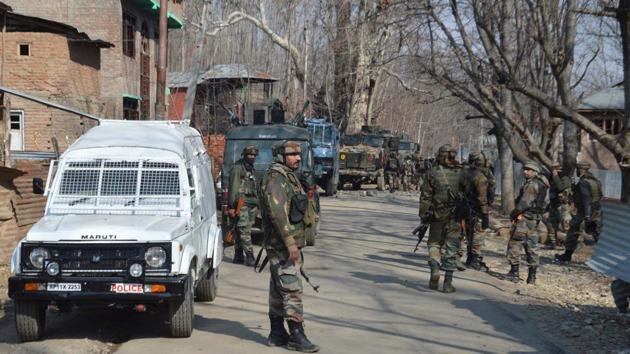 "The family filed a report of him missing at Sadar police station in Srinagar. Photos claiming that he has joined militancy are being circulated on social media. We are investigating the matter," said Jammu and Kashmir's director general of police, SP Vaid.
Junaid's father, Mohammad Ashraf Sehrai, 72, who replaced Syed Ali Shah Geelani as the Tehreek-e-Hurriyat party chief on Monday, could not be immediately reached for comment.
The picture doing the rounds on social media shows Junaid, who is around 30 years old, posing with an assault rifle. The text with the image states Junaid's code name is "Amaar Bhai" and he joined the Hizbul Mujahideen, a home-grown militant outfit, on March 24, 2018.
A source close to the family said Junaid has an MBA degree from Kashmir University. The image circulating on social media mentions his MBA credentials.
"He left their house in Srinagar's Bhagat locality for Friday prayers and did not return, following which the family approached the police," said the source, who did not want to be named.
The family hails from Lolab area of north Kashmir's Kupwara district.
Police are closely monitoring the case in the light of a Kashmiri student from Aligarh Muslim University (AMU), Mannan Wani, disappearing and reportedly ending up with Hizbul Mujahideen in January.
A picture of Wani, 26, a geology research scholar at AMU, holding a grenade launcher went viral on social media. The text on the picture said Wani hailed from Lolab area of Kupwara district in north Kashmir, and his code was "Hamzah Bhai".
Incidentally, Suhail Aijaz, a Kashmiri student of AIIMS, Bhubaneswar, who is also from Kupwara, is missing since February 9.