Srinagar bypoll: Pellet horror returns to Kashmir
Updated on May 26, 2017 07:19 AM IST
Of the seven people killed in the polling-day violence, one succumbed to pellet injuries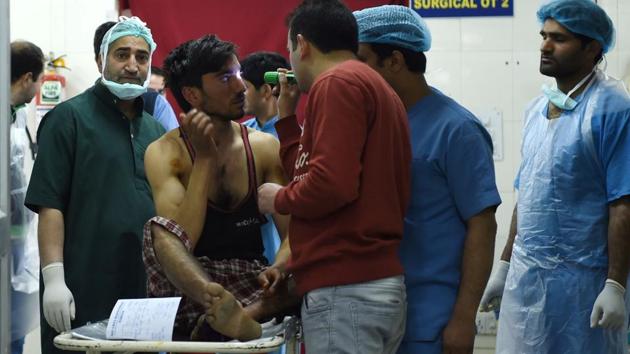 The controversial pellet guns made a return to Kashmir on Sunday, the day Srinagar parliamentary constituency went to bypoll, claiming one life and injuring scores.
Of the seven people killed in the polling-day violence, one succumbed to pellet injuries while others died of bullet wounds as security forces retaliated on violent protesters.
Director general of state police SP Vaid told HT, "One death was due to use of pellet gun."
A senior doctor at the District Hospital, Budgam said that most of the 28 injured brought to the hospital had suffered pellet injuries.
The block hospitals within Budgam district also recorded large turnout of pellet victims. The block medical officer of Soibugh in the district said 15 locals had suffered pellet injuries. Of them one was hit in the right eye.
A senior district health official corroborated the police count, saying of the scores injured by pellets, one had succumbed to his injuries.
A senior doctor at Srinagar's SMHS hospital said at least 13 persons with pellet injuries in different parts of their bodies were brought there.
The use of the "non-lethal" weapon in Kashmir drew international condemnation by rights groups and called for "restraint".
Hospital figures show that more than 6,000 people have suffered pellet wounds with at least 1,100 eyes injuries in the unrest that began on July 8, 2016, after the killing of Hizbul Mujahideen commander Burhan Wani.
Amnesty International in its annual report described pellet guns as "inherently inaccurate and indiscriminate" and said that at least 14 people were killed due to the weapon in last year's unrest.
Even as the spiralling violence that was witnessed during the unrest had ebbd of late, the use of the weapon continued in emerging law-and-order situations in the Valley.
At least eight youths were partially blinded due to pellets earlier this year.