Liquor ban: States move to skirt 'none-for-the-road' order as pubs, bars bleed
Hindustan Times, Chandigarh/Thiruvananthapuram/Mumbai/Lucknow/Jaipur/Panaji |
HT Correspondents
Apr 06, 2017 01:26 PM IST
Hospitality industry loses tens of crores; tourists in Kerala to Goa feel the thirst and court's order is met with protests.
From re-designating highways to seeking legal redress, state and city authorities across India are hunting for ways to circumvent last week's Supreme Court order banning the sale of liquor within 500m of national and state highways.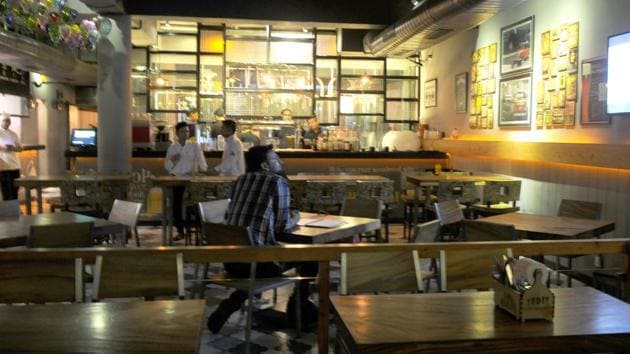 The first weekend after the court order saw the hospitality industry lose tens of crores of rupees in lost business, prompting pub, bar and restaurant owners to plead with the authorities to bail them out.
Here's a quick lowdown on the impact of the ban on industry and how the states are dealing with it:
Chandigarh hoteliers claim Rs 3 crore loss in first weekend
The Hotel and Restaurant Association of Chandigarh claimed the hospitality industry will take a big hit. "This weekend, the hospitality industry in Chandigarh will have incurred a loss of more than Rs 3 crore. We will protest at the Sector 17 Plaza on Monday," said Arvinder Pal Singh, the president of the association.
He added that the association also planned to request the UT administration to declare the stretch from Sectors 35-43 — national highway 5 part of the route towards Ludhiana — as a 'major district road'.
"We will meet the deputy commissioner, the UT adviser and if required, we will approach the UT administrator as well and hand over a memorandum," he added.
"The order has hit nearly 150 restaurants, bars and other commercial establishments in the tricity. In Chandigarh, there are 88 such establishments, of which 63 are bars and 25 are beer bars," Singh added.
Kerala eyes options, including seeking 3-month exemption
With its major revenue share drying up, Kerala is weighing options such as de-notification of state highways to district highways to get around the Supreme Court order. The state is also considering approaching the apex court for a three-month exemption.
Out of the Rs 40,000 crore annual revenue of the state, Rs 10,000 crore is from the liquor trade. Kerala has one of the highest per capita consumption of liquor in the country — 10.2 litres annually against the national average of 5.6 litres.
The state's tourism industry also fears the liquor ban will hurt. Tourism insiders say the industry is already reeling under the effect of demonetisation, increase of service tax from 4.5% to 9%, and high premium for tourist vehicles.
"We are fast losing out to some of the neighbouring countries like Sri Lanka. Last year, the state lost many conferences and meetings due to liquor curbs. We fear the latest decision will lead to further slip in footfall," said EM Najeeb, president of the Confederation of Kerala Tourism Industry.
To add to the government's worries, the Kerala State Beverages Corporation, the government-run retail giant, is facing stiff resistance in densely-populated areas while relocating 159 closed outlets. With the SC order coming into force on April 1, 557 beer and wine outlets, 159 government-owned outlets, 1,008 toddy shops, 18 clubs and 11 bars in five-star hotels have downed shutters. The Kerala Tourism Development Corporation too has been badly hit, closing down 29 of the 40 beer parlours in the state. About 40% of its revenue comes from these parlours.
"Densely-populated state's situation is different from others. We have sought a legal opinion that whether the state will get three months exemption. We haven't thought of a short cut to duck the apex court order," said state PWD and excise minister G Sudhakaran.
The state excise department also fears that unavailability of quality liquor will force regular drinkers to hooch and narcotic substances.
Sunday no flow in 500 Mumbai restaurants and bars
Approximately 500 restaurants and bars serving liquor within 500m of the Mumbai's highways remained shut on Sunday. Many regular visitors to the wine shops, bars and restaurants along the western express, eastern express and national highways passing through suburbs and Thane said they were shocked to learn that the joints refused to serve liquor.
Following the Supreme Court's clarification that its order applied to all establishments including bars — thus nullifying the state government's attempt to exempt these bars from the directive — the state excise department ensured that the order was fully enforced. The department swung into action on Saturday and sealed godowns in which liquor was stored. Hotels were given the option to serve only food and not liquor if they wished to operate.
However, few hoteliers opted to do this and many preferred to shut shop.
Adarsh Shetty, president, Indian Hotels and Restaurant Association (AHAR), said, "Around 500 hotels in the suburbs fall within this restricted zone. They have all shut. The hoteliers have invested a lot into their business and are facing hard times."
Sourabh Kulkarni, 33, went to Goregaon Social at Oberoi Mall on Sunday and was shocked to see a notice at the entrance stating liquor would not be served. "No other restaurant nearby was willing to serve alcohol."
Vilas Rao, an executive with a multinational company, was taken by surprise after he saw that all liquor joints near the Eastern Express Highway in Chembur were closed.
The SC order will hit 15,699 establishments and cost the Maharashtra government Rs 7,000 crore every year.
UP state highways turn district roads to circumvent Supreme Court's liquor ban
The Uttar Pradesh government has taken a page from the Chandigarh model to circumvent the Supreme Court order. It has simply rebranded many of its major state highways as district roads.
"The internal roads of the city (currently notified as state highways) connected to a bypass are being declared as additional district roads while city bypasses are being declared as state highways," said a notification issued by Sadakant, additional chief secretary of the Uttar Pradesh public works department, on Saturday.
The Uttar Pradesh government finished renaming the roads barely a few hours before the apex court's order banning liquor vends on highways came into effect at March 31 midnight.
Uttar Pradesh makes Rs 6,000 crore from the proceeds of 8,000-odd outlets, including bars on the highways. Of these, around 203 outlets in Lucknow, 100 in Kanpur, and 221 in Varanasi faced imminent closure due to the court order.
While the notification is bound to legalise a large number of these liquor vends, it would take time to conduct a fresh survey of the ones it can't protect. And the government doesn't want to take any chances. "We will comply with the apex court's orders," a senior state excise department official told HT.
The Lucknow Sharab Association (LSA) said many shops in the state capital fell under the Supreme Court order's ambit due to ill-considered decisions made by the public works department. "Several areas were included under state and national highways hurriedly. This is why shops from Tile Wali Masjid to Koneshwar crossing, Thakurganj, Balaganj and Dubagga have been forced to shut down," said LSA leader Kanhailal Maurya. "And we weren't told about this until we paid our licence fees!"
Liquor licences, which are given away every March, happen to be a major source of income for the government. LSA president SP Singh has already approached the high court, pleading that several shops have been wrongly shown to be a part of the state highway.
Rajasthan too redesignates roads
The Rajasthan government has declared state highways passing through habitated areas as urban roads or district roads to circumvent the Supreme Court order.
Like in most states, excise duty is one of the biggest revenue sources for Rajasthan. In 2015-16, the state earned Rs 6,700 crore from excise duty and it fixed a target of Rs 7,300 for 2016-17. In a bid to avoid the loss, the state's public works department (PWD) recently issued an order for de-notification of 190 km of 21 state highways passing through 16 districts and measuring 3,029 km as urban roads or other district roads. "This would mean that most liquor vends would continue," an official said.
3,000 liquor licences not renewed in Goa; Parrikar assures of solution
Goa's Excise Department on Saturday did not renew the licences of over 3,000 liquor vends dotting the national highways. Chief Minister Manohar Parrikar, however, assured that efforts would be made to ensure that the livelihood of affected traders is not compromised.
At a meeting chaired by Parrikar and attended by Chief Secretary Dharmendra Sharma and top excise and finance department officials, a possibility of relocating liquor businesses from the close proximity of national highways to the interior areas was also discussed.
"It is one of the alternatives. After discussions, a proper policy will be worked out for relocating affected businesses," sources said, adding that for now existing excise laws allow bar and liquor store owners to shift their unsold stock to new premises.
One of the most popular tourism destinations in the country, Goa is known for its liberal liquor regime, where alcohol is taxed less as compared to other states. There are over 11,000 licensed liquor vendors in the state, including bar and restaurant licence holders and more than 3,000 such outlets are facing the axe following the apex court order.
(With inputs from Tanbir Dhaliwal, Ramesh Babu, Naresh Kamath, M Tariq Khan, Manish Chandra Pandey and Pankaj Jaiswal, Mukesh Mathrani, and Agencies)