Telangana to offer Rs 3 lakh for women to marry temple priests
Incentive scheme in works since priests are usually ignored by families of women due to their low earnings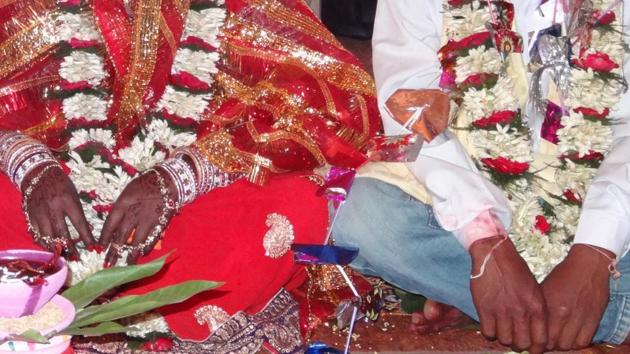 Updated on Oct 18, 2017 06:58 PM IST
The Telangana government will offer Rs 3 lakh for women who marry Brahmin bachelors working as temple priests from next month, a senior state official has said.
Arranged marriages for young Brahmin men working as temple priests have become difficult since women and their families choose men with fatter pay cheques, officials said, explaining the reason behind the incentive scheme.
In addition to the Rs 3 lakh – which will be given as a fixed deposit jointly to the couple — the government will pay Rs 1 lakh to fund the wedding ceremony.
"Unlike in the past, girls have become very ambitious and choosy in selecting grooms these days. Even software engineers are not able to get marriage alliances because of uncertain jobs. It is all the more difficult for young Brahmin priests working in temples to find suitable girls because they do not enjoy much respect in the society," said Telangana Brahmin Samkshema Parishad chairman K V Ramanachary, who is also an adviser to the chief minister.
"Not many parents are coming forward to marry their daughters off to temple priests. As a result, more and more priests are forced to remain bachelors for years. The present scheme will give some financial support to them so that prospective brides can come forward to marry them".
The scheme, Kalyanamasthu, will likely be launched in November. The Rs 3 lakh will be deposited in the joint account of the bride and the groom in a nationalised bank in the form of a fixed deposit for three years. "Our objective is to see that there would be no financial troubles for the family once they are blessed with children during this three-year period," Ramanachary said.
Parents who want to get their daughters married to bachelor temple priests can apply for the incentive scheme along with the details of both the bride and the bridegroom. "There is no limit for the number of couples to get the assistance under the scheme. All the eligible applicants would be provided with the marriage incentives, apart from the wedding expenses of Rs 1 lakh each," he said.
The Telangana government earlier announced that priests of 4,805 temples in the state will get salaries according to government pay scales from November.
Last month, chief minister K Chandrasekhar Rao announced that all archakas (priests) and other temple employees will get salaries on the first of every month like any other government employee, with a fixed pay scale. "Their salaries would be revised along with other government employees, whenever there is a pay revision," he said.
Ramanachary said with the implementation of pay scales, the temple priests would get a respectable position in the society. "And with the present incentive scheme, the eligible bachelors will also get suitable alliances in the coming days," he added.
Close Story