'The time for jihad has come': What 26/11 attacker Ajmal Kasab said in his testimony
26/11 Mumbai Attacks: 'The only 26/11 attacker caught alive - Ajmal Kasab - told his interrogators in great detail how Lashkar founder Hafiz Saeed indoctrinated terrorists to strike Mumbai and motivated recruits using rhetoric on Kashmir and jihad.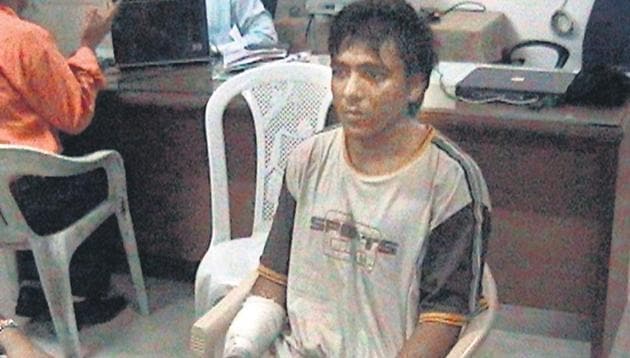 Updated on Nov 23, 2018 09:15 AM IST
"I studied up to fourth standard at a Government Primary School. After leaving school in 2000, I went to Lahore and stayed with my brother Afzal. I did menial jobs at different places till 2005. During that period, I used to visit my native place. In 2005, I had a quarrel with my father and left home.
I went to a home in Lahore where run-away boys like me are housed. From there, the boys are sent to different places for employment. One day, a person named Shafiq came there and took me with him. He was in the catering business and I started working with him for ₹120 per day. While I was working with Shafiq, I came in contact with Muzaffar Lal Khan. We decided to carry out dacoities to earn more money and so moved to Rawalpindi.
My journey into jihad started soon after.
While we were in search of firearms, we saw some Lashkar-e-Taiba (LeT) stalls at Rawalpindi's Raja Bazaar on Eid al-Adha. We thought, why not join them and learn how to operate guns.
We soon made our way to the Lashkar headquarters in Muridke, where it has its training camp.
I first met the Lashkar's Amir, Hafiz Saeed, at Muridke while I was undergoing the 21-day Daura-e-Sufa (preliminary training) between December 2007 and January 2008. A batch of 30 recruits was explained the meaning of jihad. The batch was introduced to Hafiz Saeed and the operation commander, Zakiur Rahman Lakhvi. Saeed addressed the batch, saying, "You mujahedeen have to fight to liberate Kashmir,'' and Lakhvi said, "Ab jihad ka waqt aa gaya hai (the time for jihad has come). We now have to wage a war to get Kashmir. Are all of you ready for this battle? We are planning to target big cities to weaken India."
The batch was then inducted for the Daura-e-Khas (advanced training) at a fortified Lashkar camp in Muzaffarabad, where we were trained to use Kalashnikovs, rocket launchers, pistols and grenades. We were also familiarised with the use of GPS navigation devices and map-reading and were given survival training – how to cope with hunger and how to climb mountains while carrying heavy backpacks. During the course of this training, an unknown man was also present. At that time, Hafiz Saeed and Lakhvi came there and met and hugged the unknown man, who was referred to from then on as 'Major General'. The Major General supervised the eight-week long training that made us into 'pucca jihadis'.
Hafiz Saeed chose the final 10 who were sent via sea to Mumbai. He also gave us new names. I was named Abu Mujahid. We then came back to Muridke for Daura-e-Ribat (intelligence training) in August 2008. The Major General visited the group again to motivate us and asked me if I knew how to swim.
In September 2008, we were taken to Karachi by train and kept at a house in Ajizabad locality. After two days, we were taken out to sea in two boats and then transferred onto a motorboat for three days during which we were trained to use GPS devices. On our return, we were taken to the Beit-ul-Mujahideen camp where Saeed and Lakhvi personally questioned us about our sea training. Lakhvi said that Mumbai would be the target and that we would be going to Mumbai via sea. The Major General came to this camp and after hugging Saeed and Lakhvi, took them aside for a private chat. When the trio returned, Lakhvi said that the Major General wanted to test our preparedness. The Major General told Hafiz Saeed, "Saeed saab, aap target lagao." Saeed told Kafa (the course commander) to place 10 targets and said, "When I say fire, all of you should fire single shots and when I say fire twice, open rapid fire." As per cue, all 10 fired and hit the target.
The group was then introduced to Zarar Shah, the computer and media expert. Soon after, Saeed broke the group of 10 up into five pairs and said, "We now have to hijack an Indian boat to go from Karachi to Mumbai. A lot of foreign tourists come there and they have to be targeted and killed to embarrass Hindustan."
Saeed, Lakhvi and Zarar Shah then took the group to a big hall which Shah called 'the media room'. Here, we were shown CDs of CST train station and Malabar Hill. The CDs also contained detailed information of which roads and routes to take to CST from Badhwar Park.
Finally, we were asked to shave our beards. Mobile phones with Indian SIM cards and watches set to Indian time were given to us and we were also asked to tie a red thread around our wrists, so as to pass off as Hindus. The group was ready to set sail for Mumbai.
Topics
Close Story