Three militants killed in encounter in J-K's Anantnag, restrictions imposed in Srinagar
Mar 12, 2018 07:34 PM IST
Two of the slain militants have been identified as Eesa Fazli, of Srinagar, and Syed Owais Shafi, of south Kashmir's Kokernag, while the identity of the third is being ascertained, a police statement said.
Three militants, including one who allegedly killed a policeman in Srinagar last month, were shot dead in an encounter with security forces early on Monday, police said.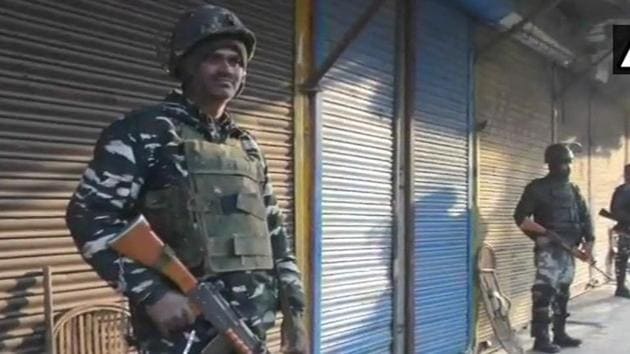 Two of the slain militants have been identified as Eisa Fazili, of Srinagar, and Syed Owais Shafi, of south Kashmir's Kokernag, while the identity of the third is being ascertained, a police statement said.
To avoid any law and order situation in Srinagar due to Fazili's death, authorities imposed restrictions and snapped mobile internet services in the morning. All educational institutes in Srinagar remained closed for the day while scheduled examinations were postponed. Local train services in the Valley were also suspended.
Apprehensions regarding situation prompted a spontaneous shutdown in many parts of Srinagar, including the commercial hub of Lal Chowk.
Based on information regarding the presence of militants, security forces started a search in Hakoora area of Anantnag district. A gun-battle ensued when the militants fired on the search team, officials said.
Police said AK 47 rifles, pistols and hand grenades have been recovered from the encounter site.
A senior police officer said Fazili, who hails from the Soura locality of Srinagar city, was involved in the killing of police constable Farooq Ahmed Yatoo, when he was on duty as a guard outside the residence of separatist leader Fazal Haq Qureshi, who had survived an attempt on his life in 2009.
The terror outfit Islamic State had claimed responsibility for the killing of constable Yatoo on their official channel. Police sources say Fazili's relation with the IS is a matter of investigation, and hinted at his ideological inclination towards the outfit.
Last year, Fazili had appeared in a video circulated on social media at the time of Eid. Using Islamic terminologies, Fazili gave the reasons behind picking up the gun. Political observers say his speech in the video revealed Fazili was ideologically driven by an Islamist narrative and was affected by the "atrocities on Muslims" across the world and particularly in Kashmir.
HT had quoted police saying after Yatoo's killing that although there was no concrete evidence of the presence of the IS in Kashmir, the possibility of a lone militant getting influenced by the outfit's ideology and carrying out an attack could not be ruled out.
Media reports said Fazli was studying engineering at Baba Ghulam Shah Badshah (BGSB) University in Rajouri in Jammu region before joining the militant ranks last year.
IS claiming Yatoo's killing was the second such incident in the last four months. In November last year, IS claimed an attack in Zakura on the outskirts of Srinagar in which a policeman and a militant were killed.
Clashes break out
Clashes between groups of youths and security forces broke out in several areas of Srinagar, a police official said.
He said stone-pelting had been reported from Soura, Anchar, Old Barzulla, Lal Chowk and other areas of the city.
"Your police seeks the cooperation of citizens for maintaining order and ensuring peace. Today you will find restrictions in some parts of city # Srinagar. While it is a cause of inconvenience, we assure these control orders are temporary. For any assistance please dial 100," the Jammu and Kashmir Police tweeted.
Malik taken into preventive custody
Jammu and Kashmir Liberation Front (JKLF) chairman Mohammad Yasin Malik was taken into preventive custody from his residence here on Monday after three militants were killed in an encounter by the security forces in Anantnag district.
Early this morning, police cordoned off Malik's residence and arrested him, a JKLF spokesperson said.
The JKLF chairman was taken to Kothi Bagh police station. When JKLF zonal president Noor Muhammad Kalwal went to see him at the police station, Kalwal was also arrested and lodged along with Malik, the spokesperson added.
The outfit has condemned the police action.