Three years after kick-off, corporate donations to Swachh Bharat mission dwindle
Top business houses- Bajaj, Larsen and Toubro, Fidelity Business, Nestle, ITC, GE, and Merrill Lynch — were among prominent donors in the first two years.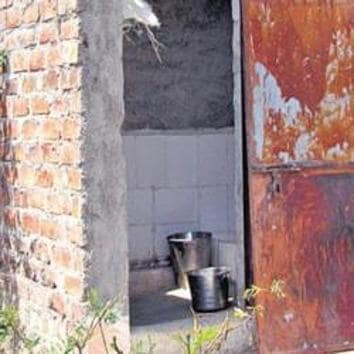 Updated on Apr 21, 2017 09:33 PM IST
Corporate and private donations towards the Swachh Bharat Kosh (SBK), a corpus set up and controlled by the government to mobilise funds for building toilets across the country, have dwindled since the drive began in 2014.
State-owned public sector units (PSU), private businesses and philanthropic individuals contributed Rs 245 crore to the funds pool in the 2016-17 financial year.
But the bulk of the money, Rs 212 crore, came from PSUs such as Power Finance Corporation, Rural Electrification Corporation, and the Power Grid. Big corporate names were missing from the donor list, while small, lesser-known private companies, charitable organisations and individuals contributed Rs 33 crore.
This is a far cry from the first two years when top business houses — Bajaj, Larsen and Toubro, Fidelity Business, Nestle, ITC, GE, and Merrill Lynch — were among prominent donors.
The corpus got Rs 253 crore in 2015-16, and Rs 159.61 crore were generated in the launch year.
The fading private magnanimity towards the government's signature campaign to build toilets and free the country of open defecation is not surprising since most business houses run their corporate social responsibility (CSR) programmes.
A Bajaj Allianz General Insurance executive said the company contributed in the first year to give the project the initial push. Thereafter, it followed its existing CSR programmes.
"We participate in a diverse range of CSR activities every year ... These efforts can range from donating money and actively working for various causes. In line with this vision, we have participated in the government's Swacch Bharat Yojana programme in 2014," a company spokesperson said.
Nestle has its sanitation programme providing drinking water and building toilets, as part of its CSR programme.
"We continue to engage with stakeholders, including farmers, experts, NGOs and the government, and take up activities important for society. Our CSR initiatives are based on national priorities, including Swachh Bharat," said a Nestle India spokesperson.
The dwindling donations could be attributed to a clause that says private entities contributing less than Rs 10 crore to the corpus don't have the power to influence or decide where and how the money should be spent.
Naina Lal Kidwai, a former Ficci president and the chair of India Sanitation Coalition, said corporate organisations like to run their own CSR programmes where they have a direct say in the execution of projects.
"This ensures that a project for which money is spent is sustainable. Corporate like L&T are directly engaged in implementing sanitation projects in states such as Rajasthan. In government-run corpuses, they do not have much of a say. This deters many of them from coming forward."
Besides, the government charges a Swachh Bharat cess on all taxable services to fund its programme.
"One of the reasons for the tepid response can be the feeling that individuals are already paying a Swachh cess. So why contribute again?" a government official said.
Among private organisations, the largest contribution came from the Kerala-based Mata Amritanandamayi Math, which gave Rs 100 crore in 2015.
But 2016-17 was a different story. The top contributor was Ganeshji Mandir Trust on Baba Kharak Singh Marg in New Delhi. It gave Rs 1.5 crore.
Mumbai-based Vidya Devi Kantakapur Trust donated Rs 52 lakh, while Kanchipuram's Modine Thermal System Private Limited gave Rs 39 lakh.
The SBK governing council has appealed for more generous donations. "But the response has not been forthcoming," a finance ministry official said.
Money from the corpus is given to the states to build toilets in rural households and government-run schools.
Top five PSU donors to Swachh Bharat Kosh in 2016-17
Top non PSU corporate/ organization individual donors in 2016-17
Close Story
Personalise your news feed. Follow trending topics