Toll from train accident in Bengal goes up to nine
Updated on Jan 14, 2022 04:28 PM IST
Moumita Godara Basu, district magistrate, Jalpaiguri, said special trains and buses were being arranged for the remaining passengers to reach their destinations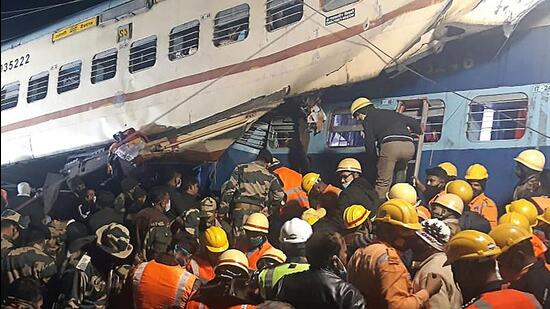 KOLKATA/SILIGURI: The toll from the derailment of Guwahati-bound Bikaner Express in Bengal's Moynaguri on Thursday has gone up to nine, an official said on Friday even as the rescue operations have been completed.
"At least 36 have been injured of which 10 passengers are serious. The injured passengers have been admitted to three hospitals," said Anshul Gupta, general manager, North East Frontier Railway. He added the restoration work of the tracks by removing the derailed compartments is going on. "The commissioner of railway safety will conduct an inquiry to find out the cause of the accident."
Moumita Godara Basu, district magistrate, Jalpaiguri, said special trains and buses were arranged for the remaining passengers to reach their destinations.
Nidar, a passenger, said he was supposed to travel from New Jalpaiguri to Guwahati. "I was in S3 coach and all the coaches after mine were derailed. Things were very disturbing as I could see people were dead in front of me. I will not be able to forget this scene in my life. Later in the evening on Thursday, I tweeted for help to reach Guwahati and railways reached out to me and helped me reach my destination by a special train that departed at 11 pm and reached Guwahati at 7.35 am. I thank railway officials for helping me and rescuing people."
Another passenger Lakshmi, who was in S10 coach, said when the train derailed, she could not understand anything for some time. "Many passengers were injured, and many appeared to have lost their lives too."
Railway minister Ashwini Vaishnaw arrived in Howrah late on Thursday night and left for the accident scene on a special train with railway officials.
"It is a very unfortunate incident. An investigation has been started. We would get to the root cause, whatever it may be – technical or operational - and ensure that it is solved so that it is not repeated," Vaishnaw said before leaving for Jalpaiguri.
Vaishnaw conducted a trolley inspection to examine the condition of tracks and their fittings. He also inspected the underframe of the locomotive and its braking system.
The railway ministry has announced ₹5 lakh compensation each for those killed in the accident, ₹1 lakh for severely injured, and ₹25,000 for those with minor injuries.
Officials said railways paid the compensation within hours of the accident including to the 36 injured passengers undergoing treatment at three hospitals.
Prime Minister Narendra Modi said he spoke to Vaishnaw and took stock of the situation. "My thoughts are with the bereaved families. May the injured recover quickly," Modi tweeted on Thursday.
Close Story
Personalise your news feed. Follow trending topics