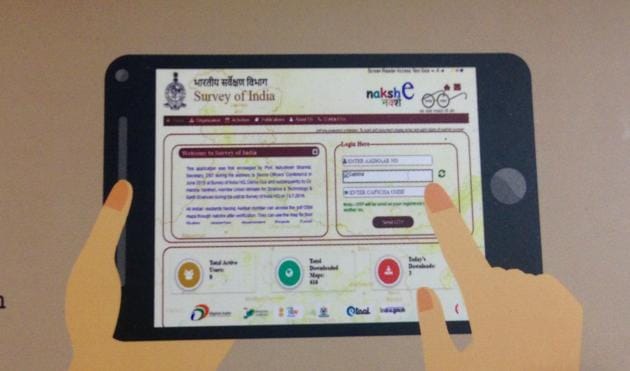 Topographic maps of India to be available online for free
The portal was launched marking the 250th anniversary of the Survey General of India that creates the maps.
UPDATED ON APR 10, 2017 07:52 PM IST
On the occasion of the 250th anniversary of the Survey of India (SoI) established in 1767, the science minister, Harsh Vardhan launched the Nakshe portal that is Hindi for maps.
More than 3000 topographic maps will be available for free on the portal.
The aim according to the minister, is "to provide these topographic maps in pdf format for all Indian public citizens." These maps include natural and manmade geographical features, topographic maps are 3-D because they capture the heights of features.
"It will empowering people to get data they need at their fingertips," said Ashutosh Sharma, Secretary, Department of Science and Technology, he illustrated with an example of a gram panchayat which wanted to take up a local developmental project. They would require this kind of data and till now would have to submit applications and pay fees. Even government agencies had to pay for these maps.
The catch is that currently, only people with an Aadhar card can access the database of topographical maps and the names of the places are in English.
The officials cited the need to balance between developmental and security needs of the country when explaining why the maps would not be accessible to people who cannot prove their identity, which currently means having an Aadhar. However. even non-Indians can get Aadhar cards.
The Survey of India also announced the launch of a new model, called the Geoid model, to adjust GPS measurements of height to obtain above mean sea level (AMSL) data, which is the standard measure of height. For example Mt. Everest is 8,848 metres above average sea level. There are no absolute altitude values, they are always measured from a base, that is usually the mean sea level.
GPS measurements are easy to make using remote sensing satellites while altitude above average sea level is a more laborious task. The ability to convert GPS measurements to these standardised values for locations all over India is a major step forward.
It will be extremely useful for all engineering projects,"Dr Swarna Subba Rao, Surveyor General of India. "It is useful for all sorts of engineering tasks - like when building dams, roadways, railways."
The SOI is still refining the geoid model so that the converted values are more accurate. The portal will also be evolving so that in a few months the information will also be made available in Hindi and the number of maps will also increase.
Close