Tribal dilemma in Congress stronghold
Updated on Nov 23, 2022 12:26 PM IST
Some men travel on their cycles to the JK Paper Mills in Songarh, around 10km away. Different world it may be, but this poll season, villages such as Thuti are bathed in political significance.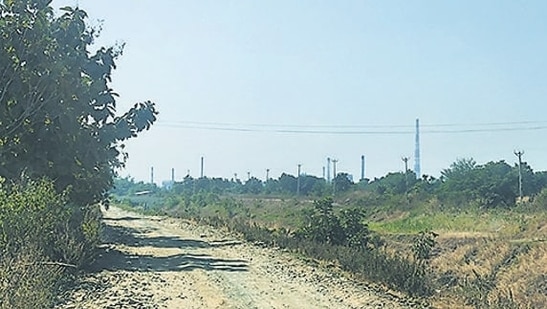 For the 42 years that he has lived, Surendra Gamit has been sustained by the river Tapi. On a recent Saturday afternoon, Gamit sits by the bank, the river stretching out before him like the sea, its water quietly lapping the dense foliage along its banks. Around 10 metres away from Gamit, is a bamboo pole, attached to which was a makeshift fishing net. When the sun sets, Gamit will take the catch, and walk home to Thuti village, where the fish will be dinner. He has less than an acre of land in his backyard where he grows paddy for his family of six on a plot that is irrigated by the river. The river is where he learnt to swim and learnt to live. But now, for the first time in his life, he is afraid of it. "The government wants to bring these big projects that will make the river swell, and take away our way of life, our homes. I want development. But I don't want to be swallowed by the river. I will vote for a party that understands this fear," Gamit says.
Click here for full coverage of Gujarat assembly election
Thuti is 100km and a world away from the metal-and-glass skyscrapers and shopping complexes that define Surat, south Gujarat's epicentre. The road that turns in from Bhimpura and rumbles into Thuti 10km later, is narrow and lined by woods. The village is sparsely populated; out from among one dense clump of flora will emerge a house made of mud and thatch, and only if very prosperous, cement and plaster. Most people in the village grow paddy, or sometimes chickpea, spending their days tending to their farms, or cattle and fowl. Some men travel on their cycles to the JK Paper Mills in Songarh, around 10km away. Different world it may be, but this poll season, villages such as Thuti are bathed in political significance.
Tribal seats key to poll outcome
To the south of Surat, Tapi district has two assembly constituencies within its geographical boundaries, Vyara and Nizar. Bordering them is Mandvi, under which Thuti falls. It areas which are administratively part of Tapi district, but is counted as one of the 16 seats in Surat. The seats are key because all three have a dominant tribal population and are reserved for the Scheduled Tribes, and importantly, all three are held by the Congress.
Overall, in the 27 tribal seats that run from north to the south of the state on its eastern fringes, the Congress won 15 seats in 2017, the BJP only eight. In 2012, the BJP did a little better, winning 10, and the Congress 16. For the Congress, faced with an exodus of leaders such as Hardik Patel and Alpesh Thakor who gave its 2017 campaign energy, these tribal seats hold the key to political relevance.
Also Read| What could explain the subdued rural anger in Gujarat this poll cycle?
For the BJP, these seats present an opportunity to expand its base, counteracting any losses to a spirited AAP campaign, in Surat for instance, or a failure to breach Congress strongholds in Saurashtra and northern Gujarat. For that though, in tribal south Gujarat, it will have to navigate the choppy straits between a desire for development but the fear of the loss of a way of life.
Take the road that connects Bhimpura to Thuti. In parts, it simply degenerates into a narrow lane of dust and stone. Years of neglect mean wary villagers ride their bullock carts, or cycles or motorcycles on its edges, afraid of the stones in the middle. The extent of this dereliction is not necessarily significant. The 10km still takes only 10 minutes to navigate and these patches come and go. But in a state which prides itself on the quality of its road network, this one stands out. The sight of that road fills Gamit with a sense of anger, but also a sense of trepidation for what it represents. "The government should make that road for us. They don't do it purposely because the Congress wins from here. Of course, I want that road to be built. But I only want that road to be built for us villagers. Not for the big trucks and JCBs that will follow them under this government. That thought makes me anxious," Gamit says.
Next to him, his wife Parvati, tending to a brood of chickens, is less sure, and therein lies the opportunity for BJP. "How does it matter if we vote for the Congress? The BJP always wins and they will do what they want regardless. At least if we vote for them, we will have a better road," she says.
In Bhimpura, Sahib Choudhary, who is tribal but not Christian like Gamit, is backing the BJP too. "For how many years will we live in isolation? I also care about jal, jungle, zameen (water, forest, and land). But my son has a job at the JK paper mill and he earns for our family. If there is more development, there will be more employment and that road to Thuti will be built."
Division on the road to development
The story of the road to Thuti lends itself to a broader development versus local displacement argument that is not uncommon in tribal Gujarat. The BJP often boasts of its development record, of its contribution to large scale projects that have come to define the state, among them the Sardar Sarovar Dam project. But unlike most of Gujarat, in tribal areas the reaction to these projects is decidedly less enthusiastic. "They keep talking about both, but they were built on tribal land. Why don't they ever acquire land from Ahmedabad, or Gandhinagar where they live?" Gamit says.
In the 2022 budget, for instance, the BJP announced plans to move ahead with the Par-Tapi-Narmada river linking project. Afraid it would submerge multiple villages and change the area's geography, there were mass tribal protests across tribal districts of south Gujarat, led by Vansda Congress MLA Anant Patel. Rattled by the anger in an election year, BJP state president CR Paatil led a delegation to meet home minister Amit Shah on March 29, and emerged out of that meeting with the assurance that the project "had been put on hold".
Harish Shah, journalist and political expert based in Vyara said: "The BJP is presenting this as a sign of its respect for tribals. But the Congress has taken the stance that this is only a temporary halt in the project, and it will resume if the BJP comes to power after the election season."
The poll arithmetic
But beyond hitting pause on these projects that generate local anger, the BJP has also made concerted political overtures to both the tribal and the Christian communities. In Vyara for instance, it has given a ticket to a Christian, Mohan Konkani, for the first time. When a worried Christian community approached the state government in June 2022 expressing concern about a growing narrative that those who had converted to the religion would lose their state benefits, they were granted an audience with chief minister Bhupendra Patel almost instantly, and emerged with their fears assuaged.
On October 20, Prime Minister Narendra Modi, the BJP's campaigner in chief, inaugurated development initiatives from Vyara, including a road from Saputara to the Statue of Unity, and water supply projects worth over ₹300 crore in Tapi and Narmada districts. His speech was distinctly political too, telling a large crowd that previous governments had "forgotten the legacy of the tribal community", and that it was under his government that November 15, the birth anniversary of Birsa Munda, is being celebrated as "Tribal Pride Day".
Still, the task before the BJP isn't easy. Two of the three seats, Vyara and Nizar, were won by the Congress with margins of over 20,000 votes, and the third, Mandvi, above 50,000 votes, and analysts say it is still the dominant force in these three seats.
"But we believe it can be done if attacked astutely. In Vyara, our Christian candidate will bring us some community votes, taking it away from the Congress. We have the support of the general castes, and some non-Christian tribal vote already. The Prime Minister has focused his speeches on the contribution of tribals to the Indian freedom struggle and that will help. In Nizar, the AAP has put up a Christian candidate, and while they don't have a presence here, any division in vote helps us, because nobody is cutting into our core vote. Those that stand by us, for our Hindutva, or our development, will stand by us," a district BJP strategist said, asking not to be named.
At a small tea stall in the district headquarters of Vyara, 76-year-old Sandeep Gamit has voted for the Congress all his life. It is people like him, the retired government employee says, who have kept Vyara a Congress bastion since 1962, except twice in 1990 and 1995 when it was won by independents. "This time though, I have told my eight-member family to vote for whomever they want. The Congress never wins, and the BJP has also fielded a Christian. I will vote for the Congress, but I sense not all of them will." The answer to how many will may well be decisive in the narrative that emerges on December 8.
This Republic Day, unlock premium articles at 74% discount
Enjoy Unlimited Digital Access with HT Premium
Topics