Corporate panchayat spreads smiles, rattles politicians in this Kerala village
Nov 27, 2017 11:49 PM IST
The two-year-old outfit is redefining service to people and becoming a political irritant in the process.
The term 'Twenty20' may be synonymous with the gentlemen's game but in Kerala, it is also about a non-political outfit that is giving well-entrenched parties a run for their money. An outfit floated by a corporate house is running a local body — a first-of-its-kind in the country.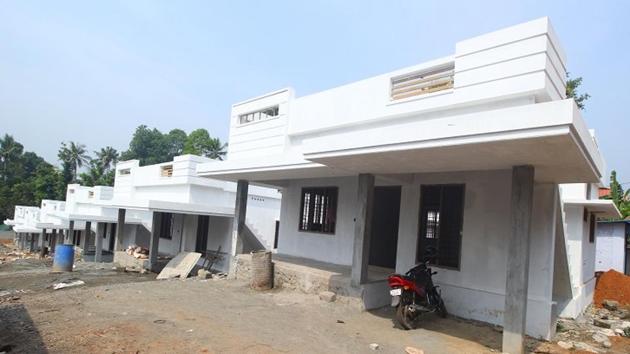 When Twenty20 swept to power in a tiny village in Kizhakkambalam (18km east of Kochi) with 69% votes two years ago, the development was difficult for the politically-conscious state to digest, with many dubbing it a major irritant in the vibrant political scene. Corporatisation of politics, they cried foul. Two years later, results are visible in the semi-agrarian panchayat, which is home to 36,000 people.
Houses for the needy, free Wi-Fi, better medical facilities and nutritious food for pregnant women, the Twenty20 stamp is everywhere. What is worrying political parties is that many neighbouring villages also want to go the shorter, Twenty20 route. The outfit's office-bearers are flooded with requests to start a unit in their areas as well.
Last week, Union transport minister Nitin Gadkari, who was in the panchayat to inaugurate a food security market where edible items are available at half the market price, was bowled over by the achievements of the village, so much so that he sanctioned Rs42 crore for the development of roads in the village.
"Kizhakkambalam is a role model. We should replicate it in the whole country," he said.
Locals say this political experiment has changed their lives.
"Even small things are taken care of here," said Thresyamma, 72, coming out of the food market clutching two bags and a red smart card. "There are four different cards here. Since I am holding a red card, I get everything free," she said with a chuckle.
What sets Kizhakkambalam apart from other villages?
Here, all have equal say and chorus for change is everywhere.
"We want to become the best local body in the country by 2020. We focus on four things — house for all, food for all, good drinking water and better roads," explained Kizhakkambalam panchayat president KV Jacob.
For panchayat members, he adds, politics is not a career but an opportunity to serve people. Though the annual income of the panchayat is only Rs5 crore, the corporate house pumps in money for its developmental works.
Soon after storming to power, Twenty20 shut the only liquor outlet, which was collecting Rs12 lakh on a daily basis, and sent many habitual consumers to de-addiction centres. "That was the turning point. We recruited a number of MSW (master of social work) graduates for regular interaction with people and monitoring of all ongoing works," said vice-president Jincy Aji.
It was not a smooth sail.
Sidelined, parties used every opportunity to run it down and foisted several cases on it. But it chugged along. "We won because successive political parties run us down badly. In two years, we did what political parties couldn't do in decades. We effectively channelised a people's movement," said Sabu M Jacob, the brain behind the movement, and the managing director of Rs1,000 crore worth Kitex group.
Firms are required to spend at least 2% of the profit on CSR (corporate social responsibility); Kitex' share, Jacob said, is 6-8%.
While villagers are happy, politicians are not amused. "It is not a healthy trend," said CPI(M) district secretary P Rajeev, adding that it "will pose a big threat to democracy". A Congress leader said it was a warning signal for politicians. Government officials admit Twenty20 has brought changes in their work culture too. "We plan to make all services online," said a Kunnathunad taluk official.