Two farmers commit suicide in Madhya Pradesh, fifth death since Mandsaur protest
Hindustan Times, Bhopal |
Neeraj Santoshi and Shruti Tomar
Jun 13, 2017 03:27 PM IST
Experts say the deaths are symptomatic of an agricultural crisis sweeping India's food bowl states.
Two debt-ridden farmers died in Madhya Pradesh on Tuesday as the government struggled to contain acute agricultural distress that has claimed five lives since violent protests broke out last week.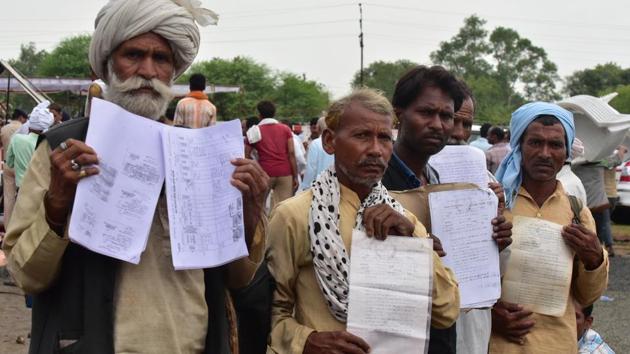 A 68-year-old farmer allegedly killed himself in the state's Hoshangabad district and his body found hanging from the branch of a tree in his farm, police said.
Makhan Lal had taken a loan of Rs 7 lakh from local money lenders and had also sold nearly 7 acres of land in the past two years to repay the burgeoning interests.
"My father was very depressed about the loan repayment," said Rakesh Lohwanshi, his son.
Another debt-ridden farmer from Vidisha district, Hari Singh Jatav, died during treatment in Bhopal after taking tablets to end his life days ago, police said. More details were awaited.
The two incidents took the death toll to five since farmers went on a rampage in Mandsaur on June 6, ransacking property and torching vehicles to press for better crop prices and a loan waiver.
Experts say the deaths are symptomatic of an agricultural crisis sweeping India's food bowl states where a crash in produce rates, rampant corruption and red-tape in procurement and aggressive money lenders have left farmers looking down the barrel.
In Madhya Pradesh, for example, a combination of a bountiful crop and a cash crunch post demonetization has left farmers with few options in a region that clocked a farmer suicide every five hours last year.
Death of five farmers killed in police firing in Mandsaur last Tuesday has sparked a political slugfest in the BJP-ruled state with senior politicians such as Congress vice-president Rahul Gandhi visiting the spot. Chief minister Shivraj Singh Chouhan, who relies heavily on support from farmers to win him a fourth term in elections due next year, has promised a dialogue but not committed to a full farm loan waiver.
In Raisen district, about 45 kilometers away from Bhopal, a 40-year-old farmer Kishan Singh Meena from Sagonia village allegedly took tablets on Thursday evening and died hours later. He was struggling to pay back loans worth Rs 17 lakh.
Another debt-ridden farmer, Anwar Khan, allegedly committed suicide by consuming pesticide in Bundelkhand's Sagar district on Thursday evening, police said. He had a loan of about Rs 5 lakh.
52-year-old farmer Dulichand Keer allegedly committed suicide by consuming poison in Rehti area of Sehore district, 40 kms from Bhopal, on Monday. Sehore is home district of chief minister Chouhan.
The family told media that he was anxious about paying back loans but local police have attributed the death to age-related diseases.
"My father was disturbed due loan he had taken he had taken from a bank and local money lenders to the tune of Rs 6 lakh. For the last few years, he was not getting proper price for his produce," said his son Indra Kumar Keer.
(With input from Saeed Nada in Raisen, Anupam Pateriya in Sagar and Jitendra Verma in Hoshangabad)