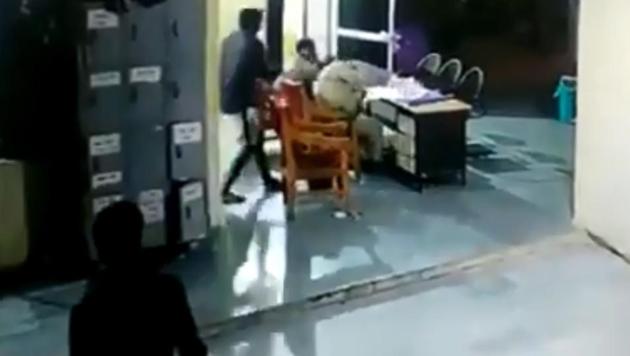 Undertrial prisoner attacks two policemen with a spade in MP's Bhind, one dead
Constable Umesh Babu and his colleague were attacked at a police station in Bhind on September 9 and the incident was captured on CCTV camera
UPDATED ON SEP 12, 2018 04:20 PM IST
A policeman, who was attacked by an undertrial prisoner with a spade in Madhya Pradesh's Bhind, died on Wednesday at a hospital during treatment in New Delhi, reports said.
Constable Umesh Babu and his colleague were attacked at a police station in Bhind on September 9 and the incident was captured on CCTV camera. Babu was referred to a hospital in Gwalior and from there he was sent to Delhi for better treatment. The other policeman has been admitted at a district hospital in Bhind, ANI reported.
The footage shows the man, armed with a spade, moving quietly down a corridor and hitting the policemen on their head from behind. The first policeman immediately collapses and the second tries to stave off the blow but fails and crashes to the floor.
The accused managed to escape with his accomplice but was caught several hours later.
Close