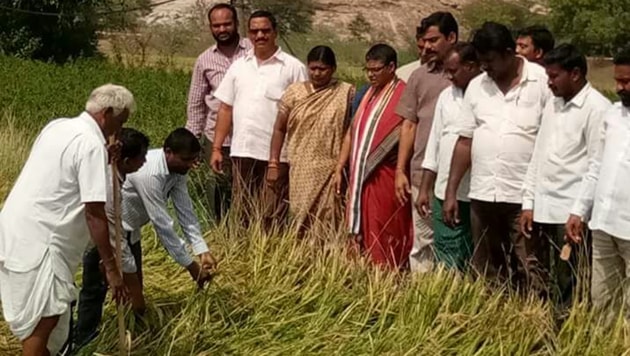 Unseasonal rain and hailstorm damage crops in 1.35 lakh acres in Telangana
The actual assessment of crop damage will start after another spell of rain which is forecast in the next 48 hours, ends.
UPDATED ON APR 03, 2018 07:59 PM IST
Unseasonal heavy rains coupled with high-speed wind and hailstorm that lashed different parts of Telangana in the last two days caused extensive damage to standing crops in nearly 1.35 lakh acres, agriculture department officials said on Tuesday after preliminary estimates.
Although the heavy rain brought a lot of respite to the people from scorching temperatures which had soared 40 degrees Celsius in several parts of the state, they also caused a lot of misery to the farmers by damaging crops which were almost for harvest.
Senior officials of the agriculture and horticultural departments, who reviewed the situation on Tuesday, estimated that paddy crop suffered the most due to thunderstorms and hailstorms in mostly Nalgonda, Suryapet, Siddipet, Khammam and Warangal districts, besides parts of Ranga Reddy.
"In all, paddy in more than 1.11 lakh acres, which is ready for harvesting, has been reported to be damaged. Similarly, maize crop also suffered heavy damages in 12,500 acres. The other crops that were damaged are mostly of horticulture like mango and lemon, besides vegetables," Principal Secretary (Agriculture) C Parthasarathy said.
He said the officials had been instructed to assess the quantum of crop damage. "More rains and hailstorms are expected in the next 48 hours also, as per the forecast of the meteorological department. Once the rains subside, we will be able to assess the actual damage. If there are no further rains, there is also a possibility of recovery of crops which are partially inundated in the rain water, so that the loss could come down," Parthasarathy said.
There has been no demand yet from farmers for any compensation.
Chief minister K Chandrasekhar Rao also sought assessment reports from officials on the damage caused to crops in different districts following heavy rain and hailstorms. "Since the government is ready to give input subsidy to farmers who suffered losses, reports should be prepared and sent to the government forthwith," a statement from the Chief Minister's Office said.
Following instructions from the chief minister, state chief secretary S K Joshi spoke to all the district collectors over phone and asked them to prepare reports on crop losses. He directed that official teams immediately start their visits to the affected areas to assess the damage.
Close