'Unshackled': What Kashmir Reader's front page said after lifting of ban
Updated on Dec 29, 2016 11:42 AM IST
The publication of the newspaper was banned by the state government since October 2 for "inciting violence".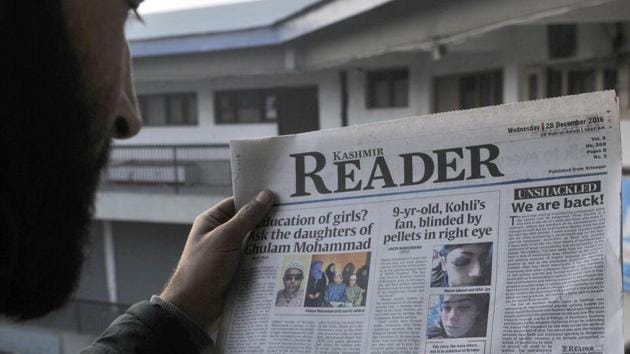 Kashmir Reader, an English daily from the Valley that was banned since October 2, hit the stands on Wednesday, a day after the ban was formally revoked.
The publication of the newspaper was banned by the state government since October 2 for "inciting violence".
The order received by the newspaper from the Srinagar district magistrate on Tuesday read: "Kashmir Reader was directed to abstain from printing and publishing under Section 144 CrPC. That order remains enforceable for two months only as such has lapsed on 30/11/2016. Since no extension has been ordered by the government, there is no ban on publishing of the newspaper as on date".
Jumping back into business, the newspaper's front page carried reports of people blinded by the use of pellet guns. The two case studies were accompanied by an editorial headlined: "UNSHACKLED — We are back!" The piece said it was the paper's "greatest pleasure" to resume its "duty to our readers, the most important aspect of a newspaper, to whom we owe gratitude".
It added, "We at Kashmir Reader once again commit ourselves to continue trying to make sense of this historic phase for our readers, taking into account what many might have missed out on. We will continue to be a space for nurturing a sharp discourse, reflection and commentary on what concerns the average Kashmiri in the most comprehensive manner possible, within the intellectual resources available from the entire spectrum of perspectives and opinion."
The editorial further said when a government decides to ban a newspaper, "it could either mean the administration's lack of confidence in addressing the cause(s) of such widespread unrest or a failure to muster required political resources for a process of resolution".
"Any government anywhere in the world whatever the political or economic condition it finds itself in has to in all circumstances ensure the rights of the citizen and accord the highest respect to historical truths and well-founded public sentiment for freedoms, the ideal (not necessarily how it is practiced in many parts of the world) of democracy promises. For it is the people who make democracies, not the ruling classes who must represent the yearning for real and meaningful democracy."
Other stories talked about the united Kashmir media fraternity and HC ordering the release of firebrand separatist leader Masarat Alam, quashing the charges on him under the Public Safety Act.