Terrorists frustrated with failed infiltration bids attacked Uri base: Shah
Updated on Sep 25, 2016 03:05 PM IST
An attack on an army base in Uri was by terrorists frustrated with the government's strategic and aggressive response that foiled 17 infiltration attempts and killed 117 intruders in the past eight months, BJP president Amit Shah said on Sunday.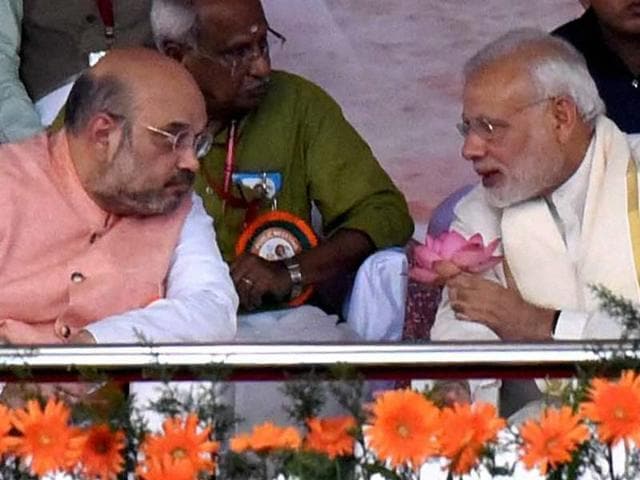 Hindustan Times |
, Kozhikode
Kumar Uttam and DK Singh
An attack on an army base in Uri was the result of "terrorists' frustration" with the government's strategic and aggressive response that foiled 17 infiltration attempts and killed 117 intruders in the past eight months, BJP president Amit Shah said on Sunday.
Shah's comments came amid a growing clamour for a military response to the Uri strike last Sunday that killed 18 soldiers. India says the militants came from Pakistan and has moved to isolate the neighbouring country at global fora -- but the charge is flatly refuted by Islamabad.
Read: Not for war-mongers: PM Modi spells out what India can do with Pakistan
The BJP is under pressure from cadre and supporters to follow through on its election promise of tough action against militants. Though conscious of the feeling of anger and resentment after the Uri attack- as Shah acknowledged on Sunday- the party is aware that military retribution is no option. It asked the people to stand with the government in its "decisive" battle against terrorism.
"It is a long drawn battle foisted on us by our neighbour. Uri is only a temporary setback. The final victory will be ours," said Shah at the BJP national council meeting in Kozhikode.
"The prime minister has promised that the perpetrators shall not go unpunished…this battle may be a protracted one, but we shall fight it to the finish."
Shah's remarks came a day after Prime Minister Narendra Modi said India "will not forget" the Uri attack and directly addressed the people of Pakistan, exhorting them to fight a "war" against poverty and illiteracy. He also tempered calls for a military retribution.
In his speech, Shah spoke out against Kashmiri separatists and the Pakistan-sponsored terror attack in Uri, drawing appreciation from Modi who shook hands with him when he returned to his chair. The BJP president later read out a statement on "Uri and Terrorism".
Read: Modi goes beyond knee-jerk reaction to Uri, harps on Pak's vulnerabilities
Anxious to convey that the government is acting against the perpetrators, the BJP chief said the Centre's diplomatic offensive had exposed "Pakistan's policy of promoting terrorism" as a state policy and isolated the neighbouring country globally.
"Pakistan is today openly supporting and sponsoring terrorism as a state policy. India has been a long time victim of this policy of Pakistan," Shah said.
India and Pakistan have been locked in war of words over Uri at the United Nations this week, especially in response to a speech by Pakistan prime minister Nawaz Sharif at the UN general assembly.
Read: Uri attack could be the result of Kashmir unrest, says Pakistan PM Sharif
"The speech of Nawaz Shar at the UN is a testimony that Pakistan is openly advocating terrorism. Pakistan spends billions of dollars from its budget to funding, equipping and training terrorists on its soil and exporting them into many countries in the world. Thus Pakistan, over the years, has emerged as the global terror hub," Shah said.
But Shah didn't seem inclined to discuss Uri and the government's response, even at a party gathering. He told the gathering of about 1,700 BJP leaders that his statement on Uri did not require any discussion and they should just adopt it.
The BJP chief also blamed Pakistan for instigating the "militant separatist movement" in the Kashmir Valley. He said the government is ready to talk with anyone who wants peace in Kashmir but it will include only those who consider themselves "Bharatiya" and respect the "maryada (limits)" of the Constitution.
Terming the situation in Jammu & Kashmir in the past ten weeks as "worrisome", he said there will be no discussion with anyone who does not accept the Constitution. "Even the militant separatist movement in J&K is also a creation of Pakistan only," Shah said.
The prolonged unrest in Kashmir Valley following the killing of militant commander Burhan Wani last July has left 86 people dead and over 10,000 injured. The NDA government maintains it is ready to engage all stakeholders in the Valley but refuses to acknowledge separatist Hurriyat leaders as one of them.
Personalise your news feed. Follow trending topics