Uttar Pradesh's VIP districts fare poorly in checking open defecation
Apr 28, 2017 12:32 PM IST
Barring one or two, less than 50% residences have toilets in VIP districts of Uttar Pradesh.
The districts represented by political leaders in Uttar Pradesh fare poorly when it comes to checking open defecation, data by the Union ministry of drinking water and sanitation shows.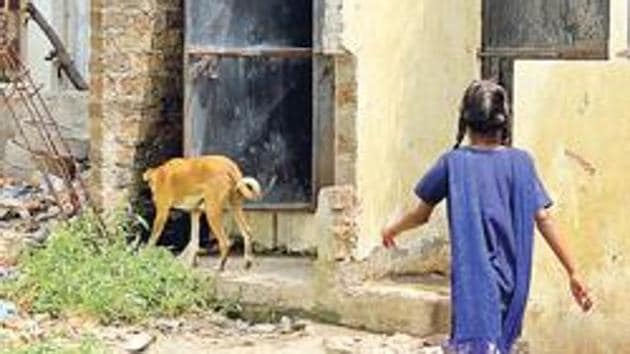 Earlier this week, Uttar Pradesh chief minister Yogi Adityanath set an ambitious target of making the state, including its 59,000 gram panchayats, open defecation free (ODF) by October 2018, a year ahead of the national deadline.
Prime Minister Narendra Modi has prioritised sanitation since sweeping to power in 2014 and launched the Swachh Bharat Abhiyan or Clean India campaign that aims to provide toilets for all and end open defecation in the country by 2019 — Mahatma Gandhi's 150th birth anniversary.
Almost all districts represented by political leaders in the state have the poorest all-India rankings based on individual household latrine (IHHL) coverage. Barring one or two, these VIP districts have less than 50% coverage in the villages.
As a result, a majority of the rural population in these districts has no choice but to defecate in the open.
Varanasi, Prime Minister Narendra Modi's parliamentary constituency, Lucknow, Rae Bareli, Amethi, Etawah, Mainpuri, and Gorakhpur which is represented by 5-time Bharatiya Janata Party legislator and chief minister Adityanath, figure in the list.
"Achieving the target (of making UP open defecation free by October 2018) is not impossible if the agencies concerned work in a mission mode. But the challenge will certainly come from the so-called VIP districts where the individual household latrine coverage is much below the state average of around 50%," an official requesting anonymity said.
According to the Union ministry of drinking water and sanitation's data on current district-wise all-India ranking, Gorakhpur district holds the 619th rank among the 687 districts in the country. The individual latrine coverage in the district is as low as 30.55%.
Rae Bareli and Amethi, the Lok Sabha constituencies of Congress president Sonia Gandhi and vice-president Rahul Gandhi respectively, are ranked 543rd and 526th with latrine coverage of 41.78% and 44.43%.
Azamgarh, represented by Samajwadi Party (SP) patriarch Mulayam Singh Yadav, is ranked 606 with 32.42% IHHL coverage. Etawah, the home district of Mulayam and his son and former chief minister Akhilesh Yadav, has only a slightly better ranking at 457 with latrine coverage of 56.44%.
Mainpuri, another SP bastion, is ranked 522 with 44.85% latrine coverage.
Varanasi is placed 3 notches below Etawah with a rank of 460 and the IHHL coverage is 55.92%. Lucknow district has an all-India rank of 542 based on 42% rural latrine coverage.
Among the regions, Braj in western UP is especially found to have a low IHHL coverage. Mathura, Agra, Aligarh, Hathras, Etah, Kasganj districts in the Braj region have very low ranks.
Etah with merely 17.95% IHHL coverage has the lowest all-India rank of 671 within the state and is followed by Sultanpur at 667. Agra, Barabanki and Faizabad come after Sultanpur.
According to UP panchayati raj department, there are 99,279 villages in the state of which only 6,952 have been declared open defecation free till April 25, 2017. This is as low as 7% against the national average of more than 31%.
Shamli comprising 289 villages in western UP is the only district to have been declared ODF in the state.
Ghaziabad, Hapur, Bijnor, Baghpat, Mirzapur, Muzaffarnagar, Gautam Buddh Nagar, Farukhabad, Kannauj, and Auraiyya districts are close to being declared ODF as they have already achieved more than 70% IHHL coverage. The latrine coverage in about 30 districts is over 50%.
Nationally, UP with total 47.57% individual latrines, comes among the low IHHL coverage states after Odisha (42.10%), Jammu and Kashmir (38.14%) and Bihar (29.01%). Household coverage across India is 63.72% of total villages and ODF villages (193,078) which is 31.93%.
Himachal Pradesh, Kerala, Sikkim and Uttarakhand have been declared ODF so far.