Will work to protect Constitution, uphold its values, says President-elect Ram Nath Kovind
Updated on Jul 20, 2017 07:29 PM IST
Ram Nath Kovind has been elected India's 14th President of India.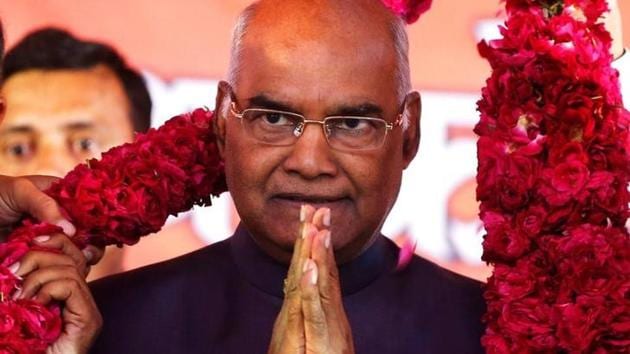 Indo Asian News Service, New Delhi |
Indo Asian News Service
A visibly emotional President-elect, Ram Nath Kovind on Thursday said he will work towards protecting the Constitution and upholding its values, and will serve the nation to ensure happiness for all.
"This is a very emotional moment," Kovind told reporters after being elected President of India. "This is a very big responsibility for me."
"It is my duty to protect the Constitution and uphold its values as the President. I pay my respects to my countrymen and assure them that I'll serve the nation in the spirit of 'Sarve Bhavantu Sukhinah' (May all be happy)," he said.
Recalling his childhood days, Kovind said: "It has been raining since morning in Delhi. This weather reminds me of my childhood days when I used to live in my ancestral village."
"We lived in a 'kuchha' house made of mud. The roof couldn't stop the water trickles during the rainy season. I, along with my brothers and sisters, used to stand in a corner and wait for the rain to stop."
"There could be many such Ram Nath Kovinds who are getting drenched in the rain. Many are working hard to earn their livelihood in this rain. I represent all those hardworking people. This is also a message to those who earn their livelihood with hard work and honesty," he said.
Kovind said, "I neither thought I would be elected to this post, nor was this my aim. But my everlasting spirit to serve the society and my country has brought me here."
"This spirit is also the tradition of our country. My election to the post of President reflects the greatness of Indian democracy."
He said, "I would like to thank the people of this country, all political parties and all the public representatives."
Kovind also thanked his rival and former Lok Sabha Speaker Meira Kumar, and wished well for her future.
Kovind, the ruling National Democratic Alliance's candidate, was on Thursday declared elected as the 14th President of India, defeating Kumar, after vote count in Parliament House.