With a package of Rs 133cr, Ayodhya set to get a makeover
Updated on Oct 19, 2017 09:35 AM IST
With a Rs 133 crore package, mostly sponsored by the Centre, the Yogi Adityanath government will develop ghats of Ayodhya and provide the temple town with much needed amenities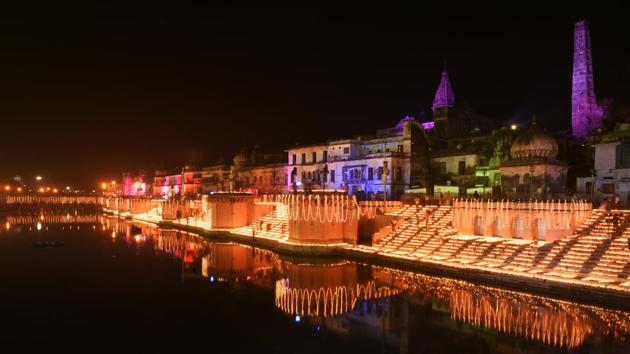 With a Rs 133 crore package, mostly sponsored by the Centre, the Yogi Adityanath government will develop ghats of Ayodhya and provide the temple town with much needed amenities. Ram Katha gallery and park, Queen Heo Memorial, Ram Ki Paidi and Lakshman Kila Ghat all figure in plans for Ayodhya's transformation.
Apart from these historical and religious places, the state government has also laid out an elaborate plan 'Ayodhya street rejuvenation – Main Road and footpath."
Under this plan, the government plans to spend Rs 8 core on eight development activities, including landscaping at public places, public toilets, drainage, streetlights, sign boards and sandstone benches among others.
The temple town will have a permanent bus stand near Saket petrol pump. The town has a makeshift bus stand whose location keeps on changing according to the requirement.
A parking lot will come up at the place often used as a temporary bus stand. For both the facilities, Rs 22 crore has been earmarked.
The government has also proposed a multipurpose hall at the Digambar Akhara and a tourist shelter at Panchkoshi parikrama.
The government has decided to spend Rs 12 crore on beautification of the Ram Ki Paidi on the bank of the Saryu river. It will get a facade illuminator. Besides, ghats will be renovated with stone railing, signage, solar lights, public convenience, drinking water kiosks and parking.
Ram Ki Paidi will also have stone benches, stone planters, gazebos and stone bollard.
The Yogi government has also proposed a solid waste management plant in Ayodhya, 14 watch towers, , CCTV cameras at 30 locations across the city, signage and 20 stone benches- five each at ghats and Panchkoshi Parikrama and 10 across the city.
Renovation of historic Guptar Ghat also figures in the state government's scheme of things for Ayodhya.
Personalise your news feed. Follow trending topics