With a prayer for justice, killed Maldivian blogger's father comes to Delhi
Updated on May 19, 2017 06:26 PM IST
Rasheed's son, Yameen, a young and prominent Maldivian blogger critical of his government and the Islamist radicalisation in his country, was killed on April 23.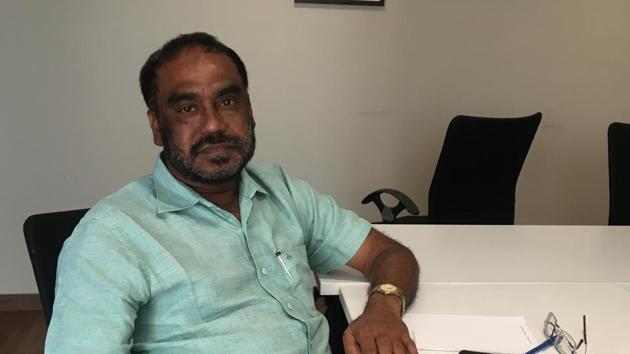 Hussain Rasheed is a brave man. For someone who lost his son just a month ago, he is completely calm and even manages to smile politely.
But there is little doubt he is also a broken man - in search of justice. And he hopes for support from the country that he and his son saw as a second home.
Rasheed's son, Yameen, a young and prominent Maldivian blogger critical of his government and the Islamist radicalisation in his country, was killed on April 23.
It was one more killing in a country that many in the international community and opposition believe has taken an increasingly authoritarian turn over the past few years, with little space for dissent.
The trajectory of the Rasheed family gives a glimpse into the political evolution of the island nation, how disillusionment gave way to hope and eventually to tragedy over the past three decades.
The India connection
Rasheed showed a picture of a 2-year old Yameen, celebrating his birthday in Kerala's Thiruvananthapuram, in 1990. That was the year he shifted to India, to ensure a good education for his family.
As they were growing up, Rasheed recalls he spoke to them of the inequality and corruption back home in Maldives.
"I sometimes think what happened to my son was because of me. I talked often about how one group of people were looting money, keeping it in their palace, as the country suffered. I spoke of justice. Yameen used to listen," he told the Hindustan Times over a conversation in Delhi.
This was the time when Maldives was being run as a dictatorship under Maumoon Abdul Gayoom.
Yameen went to school in Kerala, and college in Bengaluru. He was a trained IT professional, a programmer, who decided to return home in 2010 - a decision that would change, and cut short his life.
It was a time of excitement and energy in Maldives. After a struggle for democracy and free and fair elections, the young and charismatic Mohammed Nasheed had taken over as the president. Hussain Rasheed himself had become a Nasheed supporter. Young Maldivians were returning home, to build a future for themselves and to build a better country.
The dissent
Yameen was not affiliated with any party but was an active participant in the public sphere through his blog. He began noticing the increasing Islamist radicalisation - and criticised it. He got his first death threat in 2011. When Nasheed was pushed out of office in 2012, Yameen spoke up for democracy.
Things were getting grim for political activists and free speech. The same year Nasheed was overthrown, an MP Afrasheem Ali, who had spoken for women rights and argued Islam provided for it, was first forced to apologise and then killed.
In 2014, Yameen's closest friend and fellow blogger, Ahmed Rilwan, was abducted. In his blog, Yameen recalled that Rilwan had told him Islamism was a 'tool to prey on the young and vulnerable, who became foot soldiers in a political power struggle between corrupt forces – one made even more distasteful to him because it invoked the name of God and employed it for the basest of human desires'. Rilwan then began speaking against religious extremism and politicisation of religion.
"The government was trying to cover up the Rilwan case. Yameen was consistently exposing the cover up. This really brought him to public attention," a democracy activist from Male, who did not want to be named because of the threats, said.
Rasheed's family too believes this case really was the trigger for the authorities turning against Yameen. Rilwan's whereabouts are still not known.
This was all happening under a new leader, president Abdulla Yameen, who had taken over Maldives in 2013. From the United Nation to all international human rights organisations, from the democratic opposition to even regional neighbours, there has been an increasing recognition that the government has relied on fear and suppression of rights to sustain its rule. The regime's international backers are primarily Saudi Arabia and China. And it has allied with Islamist radicals.
But Yameen kept up his critique - even as death threats kept pouring in. He highlighted it on social media, he told police authorities, but there was little that would eventually help. Soon after returning from London, where he had got a generous prize for a start-up, Yameen was murdered in Male - in the same area his friend, Rilwan, was picked up from.
A cry for help
The government, Hussain Rasheed told HT, had issued a gag order on the increasingly controlled media in Maldives not to report on the case. The stated reason - this would obstruct investigations. The real reason, according to activists, was precisely to ensure that investigations are not scrutinised.
"What killed Yameen was an ideology, which poses a threat to liberal Maldivians. It was not a person. And the government authorities are in no mood to investigate the real story. There is a degree of political complicity," said the activist who wished to remain anonymous.
Hussain Rasheed now lives with a family reeling from grief. The irony is that both of Yameen's sisters work in the government. One is in the police itself; the other is an engineer in a government company. A brother is ill, and requires care.
Hussain has only one appeal to the government of India. "It is in your vicinity that radicalisation is happening. We need your help. Help us ensure an impartial investigation into my son's case."
It may not be an easy request for Delhi to meet, but it is a voice it would do well to hear.