Yashwant Sinha calls for PM Modi to replace Jaitley 'for making a mess of GST'
Sinha said everyday changes in tax rates was not going set faulty GST rate structure right and a complete overhaul of the same was necessary.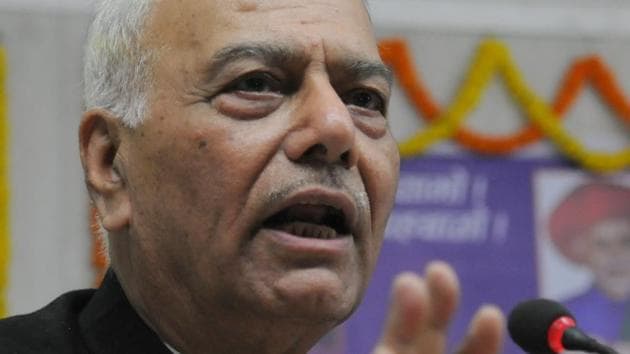 Updated on Nov 10, 2017 10:19 PM IST
Senior BJP leader Yashwant Sinha urged Prime Minister Narendra Modi on Friday to replace Union finance minister Arun Jaitley over issues with the Goods and Services Tax (GST), saying "no amount of tinkering with tax rates" will set things right.
"With full responsibility, I urge the PM to bring in a new FM (finance minister) and also constitute a committee, headed by Vijay Kelkar, to recommend fundamental changes in the GST," Sinha, once a Union finance minister, said.
This isn't the first time Sinha has criticised the top leadership of his own party over the government's economic policies. In late September, he wrote a newspaper opinion calling last year's note ban an "unmitigated economic disaster" and the implementation of the GST a "badly conceived and poorly implemented" havoc.
Those comments drew a sharp rebuttal from Jaitley, who took a jab at "an 80-year-old man looking for re-employment". Jaitley did not name anyone but his reference was largely understood to be to Sinha.
"I may be 80, but I have presented all my seven Budget speeches 'standing up' unlike Jaitley. All I am saying is that he did not apply his mind, blinded as he was with the obsession to achieve a revenue neutral rate to avoid any fall in tax collection," he said.
Demanding Jaitley be sacked, Sinha said: "GST in the present form has become 'kabad' (junk). Everyday changes in tax rates are not going set the faulty rate structure right. A complete overhaul is necessary. Even petrol and diesel should be brought under its ambit for the benefit of people".
Sinha also repeated his attack on the note ban. "One year is a long time. It has failed in its objective of flushing 4-5 lakh crore of black money from the system. Almost 99% of the currency is back in the banks and some currency in Nepal and district co-operative banks are still to be counted," he said.
The former finance minister said 20 lakh jobs had been lost due to the scrapping of the high-value notes.
"The government is taking recourse to false claims on note ban to celebrate its success. A raid raj is underway to bolster the government's claim on tackling black money," he said, adding, "incidents of halt in stone pelting instances happened in 2010 and 1931 too. Did it happen due to note ban then?"
Sinha made these comments after his keynote address at a function organised by the Vanchit Varg Morcha in Patna to discuss "Economic, Social and Employment of Deprived Section: Present Status".
The BJP leader called for a new commission to look into status of the implementation of quotas for SC, ST and OBCs and for ways to remove road blocks, including dealing with the 50% cap on reservations imposed by Supreme Court.
He also criticised the Bihar chief minister Nitish Kumar.
"Only lip service is going to do no good. If you mean it, have a resolution passed by state Assembly and send it to the Centre," Sinha said, ostensibly referring to Kumar's support for quotas to be extended to the private sector.
Close Story
Personalise your news feed. Follow trending topics