Kashmiris take to streets, social media in support of preacher Zakir Naik
Jul 08, 2016 07:44 PM IST
Over a dozen supporters gathered in the Residency Road area and shouted slogans in favour of Naik.
Scores of Kashmiris came out on streets and took to the social media in defence of Islamic preacher Zakir Naik as the controversy surrounding him peaked and Union home minister Rajnath Singh ordered a thorough probe into his speeches.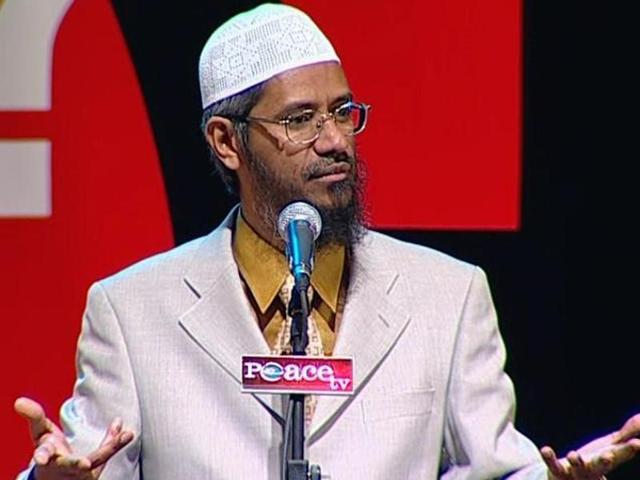 After the brutal attack at a Dhaka cafe that left 22 people dead, media reports said one of the terrorists, Rohan Imtiaz, had followed Naik's speeches closely.
The Islamic orator and founder of Mumbai-based Islamic Research Foundation has been in the eye of the storm since then, with home minister Rajnath Singh saying that his speeches were being examined by the government and television channels openly demanding a ban on him.
Read: Some like Zakir Naik, some don't, others won't talk
On Friday morning, members of Islamic Fraternity -- a Muslim youth body -- held a demonstration at the Press Enclave in Srinagar with banners saying "Dr Zakir Naik Kashmir is with you", "Zakir Naik is a man of peace and harmony" and "Stop false propaganda against Dr Zakir Naik".
Protesters told HT that all Naik did was spread the message of 'peace'. They added Naik's statements from his videos were quoted out of context and broadcast on television channels to fabricate a case against him.
"One of the major allegation that's coming up against Naik is that he has said 'urged all Muslims to be terrorists'. No one is saying the context in which he said that. He has said that Muslims should be 'terrorists' against anti-social, bad elements of the society, not innocent people," said Muhammad Aamir, president of the Islamic Fraternity.
Another protester, Abdul Rehman Butt, former secretary general of the Jamiat Ahlihadith Jammu-Kashmir, said, "Distortion of Naik's views cannot be accepted. They are trying to create a communal situation by targeting him for their own political benefit."
The protesters chanted, "Doctor sahab kadam badhao, Allah tumhare saath hai".
Read: Govt calls Zakir Naik's speeches 'objectionable', Fadnavis orders probe
Another major gathering took place outside the Jamia Masjid in Downtown Srinagar following the afternoon prayers, where protesters came out on foot and bikes shouting slogans in support of Naik.
"Dr Naik is an Islamic scholar and not a terrorist," a protester said, while scores of people demonstrated banners expressing solidarity with the preacher.
Meanwhile, chairman of the hardliner-Hurriyat faction Syed Ali Shah Geelani said that Naik and his TV channel are "propagating and preaching true message of Islam and he has no direct or indirect relation with the terrorist incidents which are taking place in Bangladesh or any other place of the world".
In a press statement, Geelani said that "the RSS and its allied parties are actually frustrated with the popularity of the true Islamic message and they are now finding reasons and excuses to silence the prominent and most accepted voice of Naik and the Peace TV", adding that the channel was doing a "commendable job" in clearing misconceptions regarding the Islam across the world.
Geelani also cautioned that "any attempt to harm" Naik will have a "strong reaction" in the state.
There has been a considerable outrage by Kashmiris on social media as well with many questioning the rationale behind holding Naik responsible for inspiring a Dhaka attacker.
"Umar Khalid is a terrorist because he supports Kashmir's resistance. Zakir Naik is radical preacher as he studies comparative religion," wrote Twitter user @_Faysal.
Some other users questioned as to how the government is up against Naik whereas it has been silent on Hindu right-wing leaders who have frequently been accused of delivering inflammatory hate speech.
Read: Zakir Naik: From a suave doctor to a polarising preacher on security radar
A meme to this effect that's being widely shared reads "Ban Zakir Naik for hate speech" and features photographs of top Sangh Parivar leaders like Sadhvi Prachi and BJP MP Yogi Adityanath.
On the other hand, Mehraj Din, a research scholar in Islamic Studies in Kashmir University, described Naik as a "man who spend his nights in his office with 4 hours sleep for the cause of Islam" and in harsh words criticised the hounding of the preacher.
"It is not the interpretations of Islam which seems to be a problem but Islam itself is a problem for them and they are going to squeeze your beliefs till they desensitise you about the foundations of Islam and all its corollaries and leave you with a bogus hoax structure," he wrote.