Dean Jones, Brad Hogg break TVs, laptops after Australia's series defeat vs India
Hindustan Times, Mumbai |
Devarchit Verma
Sep 26, 2017 11:49 AM IST
Dean Jones, Brad Hogg found a unique way to get rid of their frustration after Australia's crushing defeat against India in the 3rd ODI encounter in Indore.
In the past, there have been several reports of Indian and Pakistani cricket fans breaking their television sets when their respective teams have lost. But in a fresh development, two former Australian cricketers — Dean Jones and Brad Hogg — were recently spotted breaking electronic equipment after their team suffered a crushing defeat in the third ODI to India at the Holkar Stadium in Indore.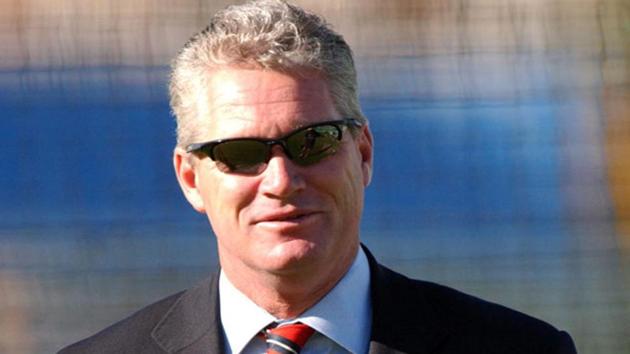 India defeated Australia by five wickets last Sunday to clinch their ongoing five-match series by a margin of 3-0. Australia's defeat was their 11th in last 13 ODIs, with two matches being washed out.
After India cantered to win in the third ODI, Jones and Hogg were seen breaking computers, laptops as well as televisions in a local shop in Indore.
READ | India vs Australia: Hosts clearly the superior team at the moment, says Aaron Finch
Apparently, there is a cafe in the city which lets their customers take out their anger in such a way. The store keeps such equipment solely for the purpose of letting their customer break a variety of products, according to News 18.
The cafe named 'Bhaadas', which is owned by Atul Malikram, takes money for letting their customers break things that are kept in their store.
Malikram said, "After the match was over, Jones and Hogg reached our cafe and broke items available here. They spent around 30 minutes after the match and left afterwards. They were our guests, so we did not charge anything from them."
READ | Hardik Pandya and the art of game-changing knocks in Australia series
The store was opened earlier this year, and keeps various products such as TVs, laptops, computer monitors, glasses, cup-plates as well as punching bags. It also provides safety gears to the customers so that they do not end up injured.
"The modern day lifestyle brings all kinds of pressures, so such a place helps customers relieve their stress," Malikram added.
The dominant Indian cricket team will take on Australia on Thursday, September 28 in the fourth ODI at the M Chinnaswamy Stadium in Bengaluru.