Highlights - India vs Australia, 4th ODI, Bangalore: David Warner slams brilliant ton as AUS beat IND
Sep 28, 2017 10:21 PM IST
David Warner slammed a brilliant century and Kane Richardson took three wickets to guide Australia to a 21-run win over India in the fourth ODI encounter at Bangalore. Kedar Jadhav, Rohit Sharma and Ajinkya Rahane all scored half centuries while Umesh Yadav took four wickets. Get highlights of India vs Australia 4th ODI here
Australia defeated India by 21 runs in the four ODI clash in Bangalore on Thursday to make the 5-match series 3-1. David Warner scored his 14th ODI hundred while Aaron Finch slammed a brilliant fifty to take Australia in 334/5 after Steve Smith opted to bat. Umesh Yadav was the best bowler for the hosts with four wickets. In response, India started well with Ajinkya Rahane and Rohit Sharma both scoring half centuries. But, they kept losing wickets at regular intervals and even Kedar Jadhav's brilliant innings at the end was not enough to clinch the game. Kane Richardson ended up with three wickets to his name.This was Australia's first away win in 14 matches. Get highlights of India vs Australia 4th ODI here. (SCORECARD | LIVE STREAMING INFO)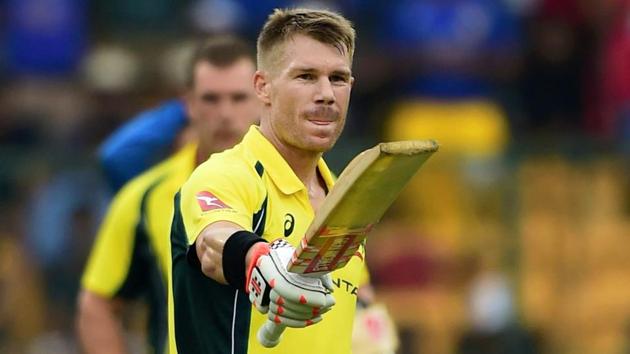 10:05 PM IST: That's all for today. See you at the 5th ODI clash on Sunday. Good night!
10:00 PM IST: "It feels fantastic. Put a big smile on our face getting this win tonight. To come out here and play the ODI format in India, on wickets I'm quite used to, is fantastic. We set out from the front to be as assertive as we could. Winning gains you some momentum. The way the guys played with the bat was fantastic. Good to see guys execute their skills they've been honing in the nets." - David Warner
9:57 PM IST: "Nice to be on this side. Nice to get a win in. Warner and Finch were spectacular. Set us up to get 330. We lost a few wickets again. Handscomb was very good at the end. Nice little cameo to get us to 330. Nice to defend and get a win. We were probably a bit too wide with the new ball. Bowlers were a little bit off throughout but pulled things back." - Steve Smith.
9:55 PM IST: "Honestly at the 30 over mark, they were going strong. I thought if we restricted them under 350, it would be a great effort, and we did do that. We were optimistic with our chances. That can happen. People have off days. Umesh and Shami bowled well. Spinners won't have good days always. Australia were really good today." - VIrat Kohli at the post-match presentation.
9:54 PM IST: This was India's first loss after 9 ODI encounters.
9:49 PM IST: After 11 straight defeats in completed matches away from home, Australia have finally won one.
9:43 PM IST: That's it! Australia have won the match by 21 runs!
9:37 PM IST: Axar Patel is the last victim of Coulter-Nile as he also departs for 5. AUS 306/8
9:34 PM IST: A really tough chase for the Indian batsmen as they need 30 off 8 balls. IND 305/7
9:30 PM IST: OUT! Looks like it's match over for India as MS Dhoni is bowled for 13. IND 301/7
9:29 PM IST: Three dot balls, but Dhoni follows it up with a flat six. IND 301/6
9:24 PM IST: A wild swing from MS Dhoni, but no result. This is going down to the wire! IND 295/6
9:21 PM IST: OUT! Cummins strikes as Manish Pandey is bowled for 33. IND 289/6
9:19 PM IST: All hopes are now pinned on MS Dhoni. India need 46 to win from 24 balls.
9:17 PM IST: OUT! Huge wicket for Australia as Kedar Jadhav is caught in the deep for 67. IND 286/5
9:14 PM IST: India need 53 runs to win from the last 5 overs. Game on!
9:12 PM IST: Kedar Jadhav absolutely hammered it for a boundary. IND 281/4
9:08 PM IST: Kane Richardson is bowling brilliantly as India look to be in a spot of bother. IND 273/4
9:04 PM IST: Effortless batting by Manish Pandey as he hits a huge six over mid-wicket. IND 269/4
9:03 PM IST: Virat Kohli had a heated discussion with the groundsman. He was perplexed that the players had gone off as the drizzle was not heavy. From the press box, it was very hard to spot the drizzle.
8:59 PM IST: Match has resumed after the rain interruption and they need 81 runs more to win. IND 255/4
8:50 PM IST: Rain has stopped. Covers being peeled off. Umpires inspecting. Maybe good to go shortly
8:45 PM IST: More covers being brought on. Ground staff think that more rain on the way. IND 251/4
8:40 PM IST: Rain halts play at Bangalore. India are 2 runs behind the par score at the moment.
8:37 PM IST: A boundary for Kedar Jadhav as he brings up his fifty. IND 251/4
8:33 PM IST: 10 overs left. India need 95 runs to win with 6 wickets in hand.
8:29 PM IST: Kedar Jadhav is inching towards his half century. IND 233/4
8:21 PM IST: OUT! Hardik Pandya's fighting innings comes to an end as he departs for 40. IND 225/4
8:15 PM IST: After 36 overs, India are 226 for the loss of 3 wickets (Hardik Pandya 38*, Kedar Jadhav 39*)
8:12 PM IST: Hardik Pandya and Kedar Jadhav have played brilliantly for India till now and they can be the match-winners today. IND 218/2
8:04 PM IST: What a shot! Kedar Jadhav comes forward and blasts it for a six! IND 212/3
8:01 PM IST: A good over for Australia as they conceded just three runs. IND 204/3
7:57 PM IST: Back-to-back boundaries for the batsmen as India solidify their position in the game. IND 201/3
7:52 PM IST: A boundary for Kedar Jadhav as India look to maintain the necessary run rate. IND 191/3
7:48 PM IST: 20 overs left in the game, India need 153 runs to win with 7 wickets remaining.
7:44 PM IST: Marcus Stoinis is back into the attack. Looks like the injury was not a serious one. IND 180/3
7:37 PM IST: Hardik Pandya continues to sizzle with his huge hits! Consecutive sixes for the youngster. IND 173/3
7:34 PM IST: India require another 177 runs with 7 wickets and 23 overs remaining.
7:28 PM IST: 150 comes up for India in the 26th over. IND 150/2
7:22 PM IST: OUT! An inside edge and the ball crashes into the stumps. That's the end of Virat Kohli as he departs for 21. IND 147/3
7:20 PM IST: Stand and deliver! Hardik Pandya hits the ball for a huge six! IND 147/2
7:16 PM IST: Terrible mix-up between the two batsmen and Rohit Sharma is run out for 65. IND 135/2
7:11 PM IST: Another six! This is massive once again from Rohit Sharma. IND 127/1
7:05 PM IST: After 20 overs, India are 115/1. The hosts need 220 to win from 180 balls.
6:59 PM IST: OUT! Ajinkya Rahane goes for the big one, but is caught in the deep for 53. IND 106/1
6:52 PM IST: Ajinkya Rahane (22nd) and Rohit Sharma (34th) have both reached their half centuries. IND 105/0
6:50 PM IST: Rohit Sharma gets another six and he slams the ball over the mid-wicket boundary. IND 97/0
6:45 PM IST: Sensible batting by Ajinkya Rahane moves to 48. IND 85/0
6:39 PM IST: An all-out spin attack from Australia as Travid Head and Adam Zampa are bowling from both sides. IND 78/0
6:33 PM IST: Marcus Stoinis looks to be in a spot of bother. Looks like a groin injury and he is leaving the field. IND 71/0
6:28 PM IST: After 11 overs, India are 69 for no loss (Rohit 28*, Rahane 40*)
6:22 PM IST: Another boundary for Rahane as moves to 37. What an innings till now. IND 63/0
6:18 PM IST: Short one from Cummins and Rohit Sharma heaves it over mid-wicket for a six. IND 53/0
6:16 PM IST: 8 overs gone, India are 47 for no loss.
6:10 PM IST: This is just too easy for Rahane as he guides the ball for another boundary. IND 44/0
6:07 PM IST: SIX! Wide from Coulter-Nile and Rahane hits it for a huge six over point. IND 39/0
6:04 PM IST: India are off to a good start thanks to Ajinkya Rahane and Rohit Sharma. IND 33/0 after 5 overs.
5:58 PM IST: It's Rohit Sharma's turn now as he gets his first boundary. IND 24/0
5:56 PM IST: 3 overs gone. India are 20 for no loss with Ajinkya Rahane looking in good touch.
5:50 PM IST: Second boundary for Ajinkya Rahane. Good start for India. IND 11/0
5:47 PM IST: A graceful boundary for Rahane as India reach 6/0 after the first over.
5:46 PM IST: Pat Cummis is bowling the first over for Australia. IND 2/0
5:42 PM IST: Ajinkya Rahane and Rohit Sharma to start proceedings for India.
5:40 PM IST: India need 335 runs to win and considering how the pitch has behaved, Virat Kohli will surely be hopeful of a successful chase.
5:00 PM IST: That's the end of the Australian innings. They reach 334/5 after 50 overs.
4:57 PM IST: Effortless shot by Marcus Stoinis as he gets a six and a boundary off consecutive balls. AUS 329/5
4:56 PM IST: Peter Handscomb's innings was a huge boost for Australia. AUS 323/5
4:52 PM IST: Fourth wicket for Umesh Yadav! Peter Handscomb was clean bowled for 43. AUS 319/5
4:50 PM IST: Sensible batting by both batsmen, but the run rate has suffered massively in the last 10 overs. AUS 307/4
4:45 PM IST: Who would have thought that Australia will not reach 350 after such a good start? But, after 48 overs, they are 306/4 for the loss of 4 wickets.
4:41 PM IST: OUT! Third wicket for Umesh Yadav as Travis Head departs for 29. AUS 299/4
4:38 PM IST: SIX! Travis Head slams it for a six! AUS 295/3
4:36 PM IST: 46 overs gone. Australia are 287 for the loss of 3 wickets.
4:31 PM IST: FOUR! Late onslaught from Handscomb as Australia look to cross 300. AUS 281/3
4:26 PM IST: 44 overs gone, Australia are 271 for 3. They were looking at a huge total, but India have performed brilliantly to stop them from reaching a score near 350.
4:21 PM IST: The runs have really dried down as India once again perform well in the end overs. AUS 266/3
4:15 PM IST: Travis Head hits a boundary after a very long time. AUS 259/3
4:10 PM IST: Australia are struggling to score runs after losing those wickets. AUS 248/3 after 40 overs
4:05 PM IST: 39 overs gone. Australia are 246 for the loss of 3 wickets.
4:00 PM IST: The quick wickets has really hindered the run rate. Can Australia find their momentum once again? AUS 239/3
3:55 PM IST: Steve Smith departs! Umesh Yadav has provided another breakthrough. AUS 236/3
3:49 PM IST: Aaron Finch also departs. Umesh Yadav dismisses him for 94. AUS 231/2
3:43 PM IST: OUT! Finally a breakthrough for India as David Warner departs for 124. AUS 231/1
3:41 PM IST: Aaron Finch moves into the 90s. AUS 230/0
3:38 PM IST: Massive! David Warner has slammed a huge six and currently, this is the highest opening run stand for Australia against India in ODIs. AUS 214/0
3:34 PM IST: 200-run partnership comes up for the Australia openers in 195 balls. AUS 201/0
3:32 PM IST: David Warner races to his 14th ODI century! Australia 198/0
3:25 PM IST: Effortless batting by Aaron Finch as he guides the ball for another boundary. AUS 188/0
3:20 PM IST: David Warner (94*) has played a special innings till now and he certainly deserves a century. AUS 180/0
3:16 PM IST: A huge six for Aaron Finch. Australia are truly running riot. AUS 174/0
3:11 PM IST: Aaron Finch also brings up his half century. AUS 148/0
3:07 PM IST: 24 overs gone. Aaron Finch and David Warner take Australia to 145/0.
3:01 PM IST: The two spinners - Axar Patel and Yuzvendra Chahal - have not received any help from the track and they need to fire if India hope to restrict the visitors. AUS 136/0
2:57 PM IST: What a performance by David Warner. Dances down the track and it's the third six of the innings for the left-hander. AUS 131/0
2:55 PM IST: Aaron Finch is also inching towards his half century. Australia 124/0 after 20 overs.
2:50 PM IST: Second six for David Warner. He is in supreme form today! AUS 120/0
2:46 PM IST: A beautiful straight drive by David Warner and it's another boundary for the opener. AUS 108/0
2:42 PM IST: After 17 overs, Australia are 104 for no loss.
2:37 PM IST: The bowlers have look quite ineffective till now and if this continues, India can be looking at a huge target. AUS 103/0
2:34 PM IST: David Warner brings up his 17th ODI fifty. AUS 98/0
2:32 PM IST: SIX! David Warner hits Axar Patel for a huge six over mid-wicket. AUS 95/0
2:27 PM IST: It's looking like a good batting track and India will be confident of chasing down any target in the vicinity of 300. AUS 81/0
2:22 PM IST: 12 overs gone. Australia are 73 for no loss.
2:18 PM IST: Hardik Pandya starts with a wide. The conditions are overcast and rain is a possibility. AUS 66/0
2:16 PM IST: Axar Patel is introduced into the attack. 11 overs gone, Australia are 64/0
2:12 PM IST: Short and wide from Umesh Yadav. David Warner slashed at it and the ball runs to the boundary. AUS 58/0
2:09 PM IST: 50 comes up for Australia in the 9th over. AUS 50/0
2:05 PM IST: 8 overs gone. Australia are 49 for no loss.
2:02 PM IST: Things darkening up a bit at Chinnaswamy stadium. However, no rain till now. AUS 45/0
1:56 PM IST: 6 overs gone. Australia are 36 for no loss (Finch 18*, Warner 15*)
1:50 PM IST: David Warner has not delivered in this series yet. Will this be his big innings? AUS 29/0
1:45 PM IST: Confident start by the Australia openers as Aaron Finch hits another boundary. AUS 27/0
1:43 PM IST: The ball hits the edge of Warner's bat and flies to the thirdman boundary. AUS 19/0
1:40 PM IST: David Warner joins the party as he gets his boundary of the innings. AUS 15/0
1:38 PM IST: 2 overs gone. Australia are 9 for no loss.
1:35 PM IST: Umesh Yadav is bowling the second over. The bounce have been quite good till now and the fast outfield will help the batsmen. AUS 7/0
1:32 PM IST: A half volley from Mohammed Shami and Aaron Finch slams it for a boundary. AUS 4/0
1:30 PM IST: David Warner and Aaron Finch to open the batting. Mohammad Shami to bowl the first over for India.
1:28 PM IST: The players are out in the middle and we are moments away from the start of the match.
1:25 PM IST: According our correspondent, sun is out. but it is still cloudy. However, the rain usually comes around the afternoon evening period.
1:23 PM IST: Follow live proceedings from the 1st ODI between Pakistan and Sri Lanka here.
1:18 PM IST: If India win today, it will their 10th victory in a row. On the other hand, Australia have lost 11 out of their 13 away matches.
1:13 PM IST: Three changes for India - Axar Patel, Umesh Yadav, Mohammed Shami come in.
1:05 PM: India XI: Ajinkya Rahane, Rohit Sharma, Virat Kohli(c), Hardik Pandya, Kedar Jadhav, Manish Pandey, MS Dhoni(w), Axar Patel, Umesh Yadav, Mohammed Shami, Yuzvendra Chahal
Australia XI: David Warner, Aaron Finch, Steven Smith(c), Travis Head, Marcus Stoinis, Peter Handscomb, Matthew Wade(w), Pat Cummins, Nathan Coulter-Nile, Kane Richardson, Adam Zampa
1:00 PM IST: Australia have won the toss and they will bat.
12:45 PM IST: Here's some good news: the toss will happen as scheduled in 15 minutes. The covers were brought out only as a precaution.
12:30 PM IST: Well, we have a weather update for you and it's a bit of a dampener: covers are being brought out at the M. Chinnaswamy Stadium due to a slight drizzle. The main square hasn't been covered, just the side wicket.
12:15 PM IST: Hello and welcome to live coverage of the fourth ODI between India and Australia.
With the series in their pocket, India will have an extra spring in their step with four frontline players playing a 'home' game at Bangalore. Skipper Virat Kohli, KL Rahul, Kedar Jadhav and Yuzvendra Chahal know every blade of grass at Chinnaswamy, having represented Royal Challengers Bangalore in the Indian Premier League.
Australia are gasping for breath in a series where their batting has let them down badly. Struggling for form, David Warner will at least try to live up to his reputation in a milestone game. The dynamite of an opener has scored 4,093 runs at an average of 44 and strike rate of 96.5 so far. A good knock from Warner is more than overdue.