As rains relent in Tamil Nadu, incessant downpour batters Andhra
Updated on Nov 18, 2015 03:46 PM IST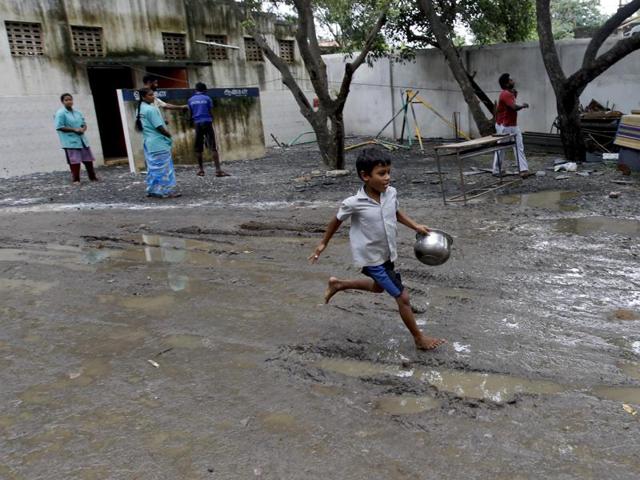 The northeast monsoon relented in flood-battered Tamil Nadu on Wednesday but unleashed its fury on Andhra Pradesh where surging waters washed away part of a vital highway in one of the heaviest rainy spells in southern India in a decade.
Andhra Pradesh chief minister N Chandrababu Naidu reviewed the flood situation in the state where at least six people have been killed in rain-related incidents. Four of the victims are children who were crushed to death when a wall collapsed in Kadapa district on Tuesday.
The unofficial toll is, however, said to be around a dozen.
Officials said the chief minister spoke to district collectors through teleconference and ordered deployment of rescue teams in the affected areas.
The chief minister also said that two helicopters of the National Disaster Response Force (NDRF) have arrived from Chennai to rescue people stranded in flooded areas of worst-hit Nellore and Chittoor districts, the officials added.
Read | In waterlogged Chennai, Ola sending boats to help people out
According to preliminary estimates, at least 500km of road network has been damaged in this wave of floods. Several trains have either been cancelled or diverted due to flooding of tracks.
The breach in the vital Chennai-Kolkata highway occurred late on Tuesday at Manubolu in Nellore district and officials said it could take days before the road link was restored.
The breach also left hundreds of vehicles and people stranded on the highway.
While the river Swarnamukhi was flowing above dangerous levels along its course, the Telegu Ganga canal has breached its embankment at several places, the officials added.
Hundreds of people have been evacuated to relief camps from around a dozen flood affected villages.
Read | Rain batters Tamil Nadu: Rs 500cr relief announced, IAF in action
Meanwhile, most parts of Tamil Nadu saw the monsoon subsiding, bringing relief to the people and the official machinery stretched to the limit since last Saturday.
The death toll in rain-related incidents across the state stood at 79.
Tiruvallur district along with some areas around Madurai had experienced moderate showers even as the severely affected Kancheepuram was inching back to normalcy.
In Chennai, civic authorities were pumping out water from inundated localities in south suburban Velachery, one of the worst affected, with boats being used to transport people to safer places.
Areas in Korattur in the city were still in knee-deep water and according to authorities it could take a couple of days for the water to dry up fully.
Most of the schools and colleges in Chennai and suburbs remained closed for the third straight day on Wednesday.
In Kancheepuram district, the army and air force were deployed since Tuesday to rescue stranded citizens as torrential rains left hundreds of residents marooned.
Tamil Nadu chief minister Jayalalithaa had earlier announced allocation of Rs 500 crore towards relief and rehabilitation besides solatium for the next of kin of the dead.
(With inputs from agencies)
Read | Good Samaritan launches FB page to help rain-hit Chennaiites