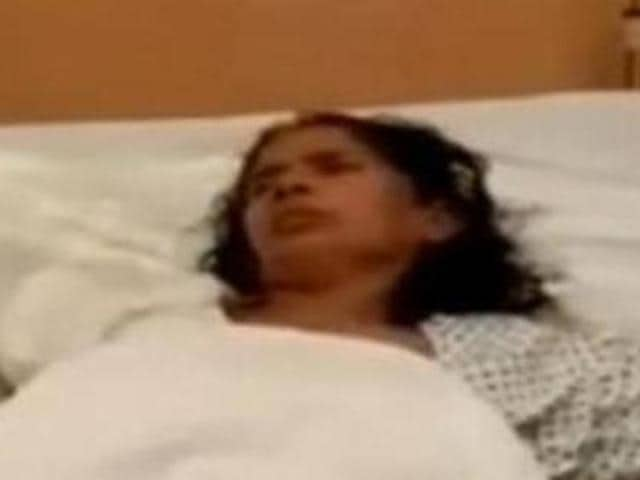 Govt fights for Indian worker after her hand is chopped off in Saudi
Kashturi Munirathinam was assaulted when she tried to escape from her employer's home in Riyadh on September 29, said her sister S Vijayakumari.
UPDATED ON OCT 09, 2015 03:30 PM IST
A 55-year-old Indian woman allegedly had her hand chopped off by her Saudi employer after she complained about work conditions, prompting India on Friday to demand strict action by Saudi Arabia on the "unacceptable" incident.
Kashturi Munirathinam's hand was allegedly chopped off when she tried to escape from her employer's home in Riyadh on September 29, said her sister S Vijayakumari.
Munirathinam went to Riyadh to work as a domestic help three months ago. "When she tried to escape harassment and torture, her right hand was chopped off by the woman employer. She fell down and sustained serious spinal injuries," Vijayakumari said.
The Saudi employer was angered when Munirathinam informed local officials about the harassment she was facing. "She was not even provided food," her sister said, adding the family learnt about the assault from "agents who sent her to Saudi".
External affairs minister Sushma Swaraj described the assault in a tweet as "unacceptable".
"Chopping of hand of Indian lady - We are very much disturbed over the brutal manner in which Indian lady has been treated in Saudi Arabia," she tweeted. "We have taken this up with Saudi authorities."
The external affairs ministry spokesperson said Indian diplomats had asked Saudi police to conduct an independent probe into the "deeply disturbing" incident and to file a case of attempted murder against the employer.
Indian diplomats had visited Munirathinam in hospital and her condition is "currently stable", the spokesperson said. The mission in Riyadh is "actively pursuing the matter with the Saudi authorities" and has asked for "strict action in the matter and severe punishment for" the employer.
"Mission officials have met the chief as well as the investigating officer of the police station and have requested that Mrs Munirathinam's statement be recorded without further delay, an independent probe be undertaken on the incident and a case of attempted murder lodged against the (employer)," the spokesperson said.
Munirathnam's sister and her son M Mohan want the government to facilitate her return to India.
Vijayakumari, who lives near Chennai, broke down while speaking to Hindustan Times and said: "Now my sister can't even sit and do simple things on her own as her spinal cord has been damaged.
"All we know is she is out of danger but in great pain. At that age, if she loses the use of her limbs, how can she earn a livelihood at all?"
Mohan, who does odd jobs in a village near Vellore where he lives with his wife and two daughters, had initially welcomed financial aid from his mother when she went to the Middle East two years ago. Mohan, 37, could not afford the steep medical expenses for his ailing father and this was the reason why his mother sought work abroad.
After working for a family in Dammam, Munirathinam moved to Riyadh some months ago. On Thursday, Mohan got the shocking news about his mother.
"Ever since she went to work with this family in July, things have not been all right. Though she said she was all right in the first month, soon her employer, a Saudi citizen, began to show her true colours. My mother was not even allowed to speak to us on phone. She was not given proper food and made to work long hours," Mohan said.
"Her life is completely destroyed," said Mohan, who spoke to his mother on Wednesday.
The family has approached the Tamil Nadu government and chief minister J Jayalalithaa for help to bring Munirathinam back. "We cannot afford the medical expenses and will plead with the government to help us with medical facilities and also to secure compensation from the Saudi family," Mohan said.
According to Mohan and Vijayakumari, the Saudi nationals who ill-treated Munirathinam have been taken into custody. Saudi authorities were forced to act after the Indian embassy took up the issue, they said.
"Someone called me a little while ago from Delhi to confirm they have been arrested," Vijayakumari said.
A video of Munirathinam shared on social media showed her in tears. She said she had pleaded with her employer not to hurt her "but she kicked me, punched me and cut off my arm. I want to go back home, please help me."
Close