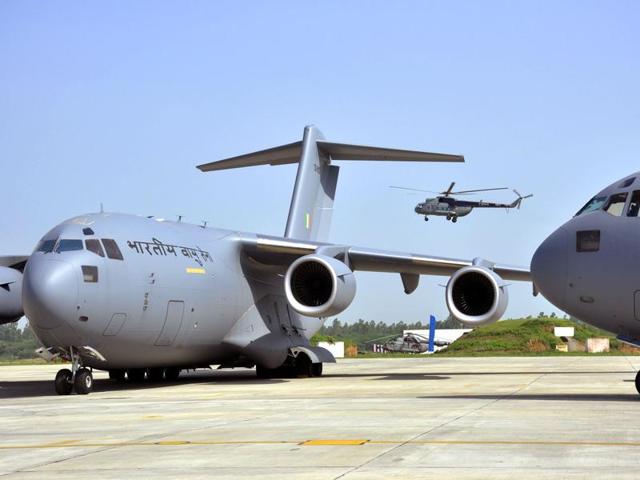 Trespasser at Hindon airbase injures soldier, beats security
Police on Friday sounded an alert at the Hindon airbase, about 30 km north of New Delhi, after two unidentified men were spotted on the premises overnight.
UPDATED ON MAY 06, 2016 10:57 PM IST
A 21-year-old man allegedly trespassed into the high-security Hindon air base in Ghaziabad on Friday, triggering widespread panic and questions about the drill followed by defence establishments.
Officials said Sonu Jatav entered the air base through an under-construction security perimeter boundary wall early on Friday. He was spotted near the technical area around 1.30am and injured a soldier before being found more than five hours later.
"The man – Sonu Jatav - seems to be insane and says he hails from Indrapuri near Loni. This is not a case of any terror-linked activity, but a case of trespass," said senior superintendent of police at Ghaziabad, Dharmendra Singh.
The sensitive airbase houses C-130 Super Hercules special operations plane, C-17 heavy lifters and Mi-17 transport choppers. The air base is vital as it provides cover to the Capital.
Officials feared a repeat of the January attack on the Pathankot air base in Punjab, when six militants entered the premises and killed seven soldiers. India says Pakistani terror group Jaish-e-Mohammed is behind the ambush.
Since the Pathankot strike, the air force issued shoot-on-sight orders against intruders at more than 20 of its front-line bases, including Hindon, in the western sector. All air bases have also been put on high alert after the Indian Air Force carried out a comprehensive security audit of its vital installations.
The alleged infiltration caused panic as authorities shut down two schools operating on campus and pressed aircraft into service as part of the standard operating procedure. Several police teams were also rushed to the air base.
"We activated SOPs even as the case turned out to be that of a trespass. The police and the army were also called in. We immediately sanitised the entire premises and even schools were ordered closure as part of procedure," said Group Captain Sandeep Mehta, public relations officer of the western air command.
The incident came two days after police arrested three suspected JeM operatives from Delhi and Uttar Pradesh, recovering explosives that were being possibly used to plan for blasts in the Capital.
"Sonu is arrested at Sahibabad police station following a written complaint by air base officials. During the incident, he injured a Defence Security Corps jawan inside the base," said Ashish Srivastava, circle officer (border).
Jatav's mother Shanti Devi told officials her son went missing on Wednesday.
"I kept on searching for him night and day. He works as a barber. He is mentally unstable and gives abrupt replies when questioned," she said.
Neighbours said they told the family to file a police complaint when Jatav went missing.
Close