'I don't want to do sports dramas'
Hindustan Times |
, Mumbai
Serena Menon
Apr 22, 2010 12:48 PM IST
A businessman, sportsperson, Olympic-medallist, proud father and soon may be an actor, Leander Paes, makes it clear that he will only do films that don't need him to recreate his own job.
Leander Paes on tennis,football and bollywood....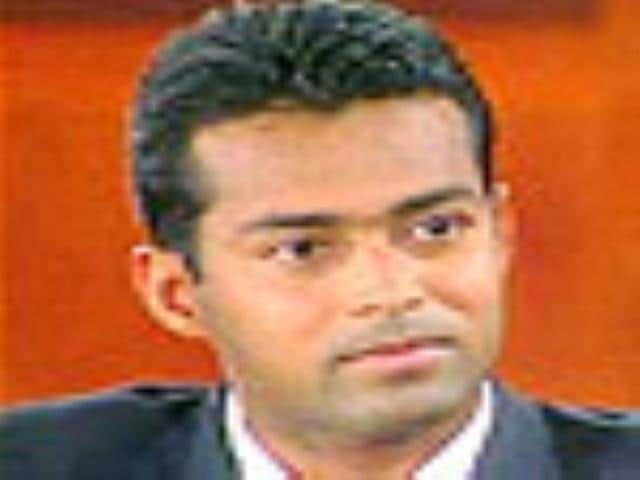 You started playing when you were 13, you're 36 today. You've been playing for more than half your life. Have you had moments when you just didn't want to?
With tennis, I made a deal with myself when I was a kid: If I go through a month not feeling like playing, then I'm done. The farthest I've reached is five days.I don't think I'll ever tire of tennis. But I feel like there are no goals left for me here. I've done everything I've ever wanted to. At the end of the day, there are other things that actually excite me and grab my attention.
What are these other things?
Corporate business, managing brands and athletes, building sports science centres, sporting facilities, entertainment, television, cinema, animation... I do not consider myself the most talented kid around in tennis. I'm 5'10'', while most others are about 6' 3'' or 6' 4''. I don't possess the biggest serve or any backhand what so ever. But I've got two gifts – my work ethic, and my heart.
If you were not a sportsperson, what would you be?
A doctor. I love medicine. Being an athlete you treat your body like a machine, if you give it good fuel, it will give you speed back.. Having a father who is an athlete and a doctor, I was very fascinated by the workings of the body.
Do you see any signs of an athlete in your little four-year-old yet?
Yes. She wants to be an athlete. She's very stubborn, which is what you need to be as an athlete, you don't take no for an answer. You have to channelise that stubbornness for a good reason. If someone says, 'No, you can't be a champion,' then you say, 'Yes, I can, and I will.' She's got a hell of a right leg. She can kick a football across a whole room. She's sharp and intuitive. She's fun. I'm going on about this now. (Laughs)
BOLLYWOOD calling …
Please clear the air… are you doing any movies then?
I've been getting offers for the last 16 years. Since I won my Olympic medal in Atlanta, I have got about 11 different offers. So far nothing has excited me. When a project really grabs my attention, it'll be awesome. It'll be a great hobby to pick up.
What kinds of roles would these be?
Something fun and meaningful… I'm a patriot. I like the fast, 'get up and go adventure style' movies. It has got to be not just a business, not only something that is meaningful on the commercial sense. For me, the creative side, if it means something and connects with Leander as a person, will matter more.
What sort of roles have you received so far?
Remaking Hollywood scripts like Tin Cup, the Olympic Hero or The Natural. Robert Redford is one of my all-time favourite actors. He did The Natural, a movie about baseball. He also did this film about horses, called The Horse Whisperer. So many sport movies, like the Chak De or Goal or stuff like that.
Sports dramas and movies that had sport-themes conjuring patriotism, a national force…. Things like that have come, which tennis does for me anyway. I don't need to do a film for that.Sports dramas don't really interest me. If I'm not motivating people with my tennis or my lifestyle then how do I expect to motivate them on screen. It'll be wonderful to not use the physique, the speed and the body again, and use more the expression and the brain and delve into forgetting a bit of what Leander is.
As a sportsperson, you're always performing before cameras, being watched by people and getting entertained…. It's quite similar to the role of an actor, isn't it?
It is more fun because it is live. You can't say cut and re-take you know… You make a fault and then say, 'Boss… a re-take please.' (Laughs)I love live-action, among other performing arts. I completely love theatre. Except, in a theatre, you've got a few hundred people watching; on a tennis court, you could have tens of thousands watching you at the same time. So it's live. That adrenalin, that fun of carrying out your role on the court, is great fun.
Have you acted at any point in life?
I've trained as an actor.
What genre of films do you like?
For a guy who has done martial arts, who has done fast paced things, I would like it to be fast paced, but it can be slow paced as well. It has to be something more character based. Not a candyfloss, dancing-around trees type. I wouldn't do that.
Would you be open to playing a negative role?
Why not? 100 per cent! I think its more a vehicle again, like tennis was one for me to reach out to my fans, the entertainment industry is a vehicle to reach out to the fans as well.
Having stayed in Kolkata, you must have been exposed to some amount of cinema…
Of course. I was born to a father from Goa and a Bengali mother. I was there till I was 12. My great grand father was a poet. He was more of a negative character. In his time, people were not respected for being rebels.
Is there any one film that on a dull day can charge you up for a game?
I love Sea Biscuit, the story about the rebel horse and junkie. Phenomenal story. I can't say I relate to Tin Cup too much, again Kevin Costner was brilliant in it. I love documentaries also. Like Mr (Nelson) Mandela's story, the recent movie where Morgan Freeman played him with Matt Damon.
'The reverence athletes get in India, is very different from what celebrities get'
Celebrities get a lot of frenzy and adulation, but the athletes, the patriots and the national players, get something different. Having had both, I can say that reverence is a lot more in the latter. I pride myself for taking on a responsibility. Playing for my flag outdoes playing for a million dollars anytime.
I was nine years old when my dad was playing for the national hockey team. After a turn of events, his team lost. Around 60,000 fans charged the field. All I remember was someone grabbing and picking me up. I looked back, and I was a rugged tough kid, and just when I was about to react, he looked at me and he said, "I respect your father, because he's a national player!"
'I grew up watching the angry young man in Bollywood'
In Indian movies, I have grown up watching the angry young man, Amitabh Bachchan. I watched Sholay probably a 105 times. I just love his movies. Shah Rukh (Khan) was brilliant in Dilwale Dulhaniya Le Jayenge. Aamir (Khan) is an amazing character actor. I keep going back to Satyajit Ray and Shivaji Ganeshan's works and Kishore Kumar's music.
Having left India so young and always having been on the road abroad, my connect with India was mainly through films and music that I used to take with me. Whether it was my old cassettes or VHS tapes or whatever I had at that time. India is so rich in the art of expression.
'Athletes live a very self centered life'
You see, athletes live a very self-centered life. In films, you're playing someone else…. You have to forget yourself. You have to take on a part of someone else, a role of the character that you're playing. So when I get away from tennis, I don't take any decisions. Same thing with movies, I think it's a director's medium.
I don't believe it's an actor's medium, because the actor plays to the tunes of the director, who is the fiddler. He's the keeper. He's the one who orchestrates the whole thing. It's a wonderful process.
'My main talent is football'
I evaluated that India was not good at football. If I took up my football dream, I wouldn't be able to do it for India.. I was given an opportunity to play for Holland.. They wanted me to give up my Indian passport, take Dutch citizenship, learn football and live there and then at 19, if I was good enough, then I would end up playing for them.
I gave up my childhood dream of coming out of a locker room into a stadium with graffiti everywhere and 1,00,000 people cheering, and then scoring a goal at the World Cup final. But I gave that up and I chose a sport that I'm not very talented at. I still play a lot though. I play with the national team. Baichung's (Bhutia) a good friend, as are Roberto Carlos and Ronaldo, among others.