India-Germany cooperation is of immense depth: German minister
On the eve of German Chancellor's state visit, German foreign minister Dr Frank-Walter Steinmeier spoke about the state of Indo-German relations in an email interview with HT's Pramit Pal Chaudhuri.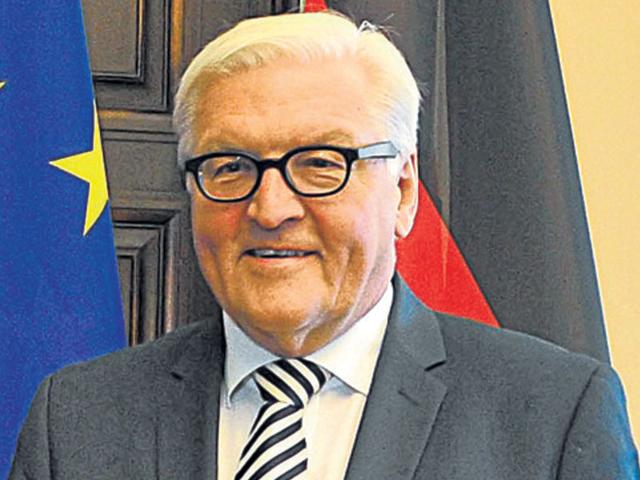 Updated on Oct 05, 2015 11:03 AM IST
Hindustan Times |
, New Delhi
Pramit Pal Chaudhuri
Prime Minister Narendra Modi met visiting German Chancellor Angela Merkel on Monday and the two will hold discussions on a wide range of issues of mutual interest, including deepening bilateral engagement in defence, security, education, renewable energy, skill development and agriculture.
Modi is also expected to take up with Merkel the need to remove "avoidable irritants" for early conclusion of a free trade pact as the European Union is keen on hosting the PM next month.
On the eve of German Chancellor's state visit, German foreign minister Dr Frank-Walter Steinmeier spoke about the state of Indo-German relations in an email interview with Pramit Pal Chaudhuri.
Q. While Indo-German ties are marked by considerable economic activity, it is often argued they lack strategic content. How would you respond to that claim?
A. I would not agree with that perception. On the contrary, if you look at the frequency of our bilateral meetings you will see a different picture. In August I met my colleague Mrs Sushma Swaraj during her visit to Berlin where we had excellent talks. Also, Chancellor Merkel and Prime Minister Modi are in close communication, most recently at the UN in New York just a couple of days ago. This underlines that Germany and India work together very closely on topics like peace and security, stabilising Afghanistan or reforming the United Nations Security Council. Germany is the only country with which India conducts Intergovernmental Consultations - a comprehensive format of cooperation in various areas of primary strategic significance to both our countries.
There are many examples of Indo-German cooperation that are of strategic importance to India's development. Take one of India's greatest challenges - skill development: Prime Minister Modi called Germany, with its world renowned system of vocational training, a natural partner of the Indian "Skill India" programme. India also aims to increase power generation without exacerbating pollution. Germany has proven its competence in the area of environmental technology with its exemplary energy transition. And we offer solutions for state of the art infrastructure and mobility systems ideal for India's "Smart Cities" programme. All of this is much more than mere economic activity; it is cooperation on a broad scale and with immense depth.
Q. Cumulative Indian investment in Germany officially now exceeds German investment in India ($ 4.1 billion vs $ 3.9 billion), despite Germany's more advanced economy. What are the factors for this low level of German investment in the country - the difficulty of doing business in India, a lack of German interest or other factors?
A. German investments in India have actually crossed the $ 8 billion mark. Almost 1700 German companies are doing business in India and many of them have opened or significantly expanded factories in India. Germany is India's 6th largest trading partner and the most important trading partner within the EU. This is not a static picture: In the first six months of 2015, the volume of trade between Germany and India rose by another five percent.
A survey conducted by the Indo-German Chamber of Commerce has shown that German companies hold a positive long term view of the Indian market. At the same time they see areas of concern regarding the ease of doing business - too much red tape, infrastructure hurdles, corruption, lack of skilled labour, tax disputes. Land acquisition problems as well as tax and customs issues need to be resolved in order to encourage further investment. The introduction of a countrywide Goods and Services Tax would be a big step forward. A reliable legal and administrative framework is indispensable for German companies in India. I believe that Prime Minister Modi's Government is heading in the right direction.
Q. How severely did New Delhi's flip flop on the teaching of German in Indian schools hurt cultural relations between the two countries?
A. I'm absolutely convinced that both Indians and Germans will profit if more Indians have German language skills. We respect the decision of the Indian Government to introduce German as an additional language. Since, in a globalised world, it is essential to speak foreign languages, I hope that many more Indians will opt for German as an additional language in the future.
Q.Angela Merkel has rightly been praised for Germany's generous policy towards West Asian and African refugees. Does Germany feel Asian countries should emulate its response to refugees when it comes to another group escaping persecution, the Rohingyas of Myanmar?
A. What we are witnessing today in Europe is in many respects unprecedented, but we are committed to living up to this challenge and finding solutions that are in line with our responsibilities. At the same time, we are fully aware that many other countries, including India, have in the past and in the present also had to deal with large migration flows due to crises in their neighbourhood or wider region. It seems evident that the issue of migration is on the global agenda and calls for a more structured international approach. Enhancing regional coordination is a good start, as we have seen in the case of ASEAN with regard to the Rohingya issue you have mentioned. As for us, we are certainly going to do our part to bring about more international exchange on the issue: sharing of good practices, working towards joint and comprehensive solutions, identifying and addressing root causes. To that end we have - successfully - applied for the Chair in the Global Forum for Migration and Development, which we will hold jointly with Morocco from 2017 on. We will highly appreciate an active engagement by others on the issue, including, of course, Asian countries, both on this platform and in other relevant international forums.
Q. The impact of the refugee policy on the Schengen agreement, the weak European response to Russia's occupation of part of Ukraine, and the continuing financial problems and economic slowdown of the eurozone have all led to questions in places like India about the future of the European Union. What specific reasons can one provide to support the thesis that the European Union will remain a credible global player?
A. Indeed, Europe stands before huge challenges. We know that Europe has been confronted with crises in the past, too, but it has always been able to successfully overcome them. Europe has given a united and clear answer to Russia's actions in Eastern Europe. It has taken an unequivocal position and has put in place a strong sanctions regime. As to Europe's economy, we have managed to stabilise the Economic and Monetary Union. I believe we are on the right track. The refugee crisis is the greatest challenge we have faced in Europe for many years. We are working on a comprehensive approach and a truly ambitious European asylum and refugee policy. I'm convinced that Europe will be able to overcome this crisis.
Q.What do you expect from Prime Minister Narendra Modi and India during the Paris climate change summit? How do you react to India's reluctance to commit to binding multilateral carbon emissions and the demand for compensation from Western legacy polluters?
A. India is a key player in the UNFCCC negotiations: India's share in global greenhouse gas emissions today is about 5.7% and it is bound to further increase considerably in the years to come. At the same time, India is one of the countries that are most vulnerable to the effects of climate change. The national policies, especially regarding adaptation, are remarkable.
Of course we see the responsibility of industrialised countries to mitigate greenhouse gases and support others in adapting to the effects of climate change. The EU has submitted an ambitious and fair INDC. In addition, Germany has agreed to increase its public climate finance by 100%by 2020.
At the same time we need to see that climate change is a global threat that industrialised countries cannot combat alone. All countries, especially major emitters, will have to play their part in this endeavour.
Read | Modi, Merkel to push trade talks, lay ground for India-EU summit
Close Story
Personalise your news feed. Follow trending topics