India, Japan fast-track ties with bullet train, civil nuclear deal
Updated on Dec 13, 2015 01:10 AM IST
Japan and India agreed several high-profile deals on Saturday including on high-speed rail, defence technology and civil nuclear cooperation, Prime Minister Narendra Modi said in New Delhi.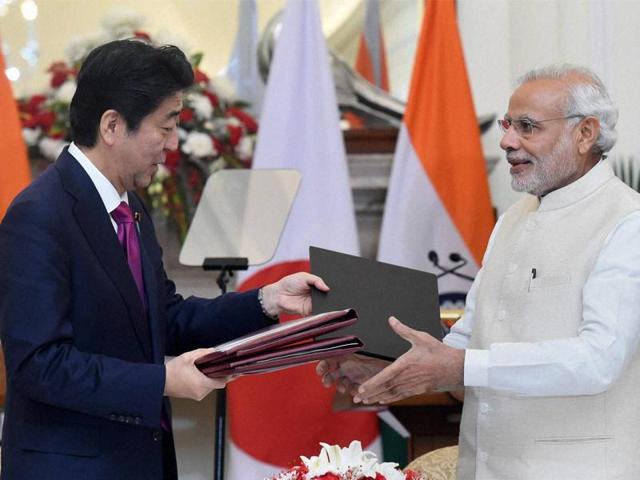 Japan and India on Saturday concluded negotiations for a landmark civil nuclear pact and Tokyo agreed to give a $12 billion loan for the country's first high-speed train in a big boost to the ties between Asia's second and third largest economies.
The annual summit meeting between Prime Minister Narendra Modi and his Japanese counterpart Shinzo Abe also paved the way for India getting Japanese defence technologies and equipment, and coordinating their shared position on the contentious South China Sea issue.
Once signed, the nuclear deal will make it possible for US firms GE and Westinghouse to invest in India because their strategic Japanese partners like Hitachi and Toshiba aren't allowed to trade with countries that do not have a civilian nuclear agreement with Tokyo.
As they talked business, the two leaders also lavished praises on each other, Abe using the metaphor of his country's iconic Shinkansen bullet train service — high speed, safe and reliable — to describe the economic policies of Modi.
Modi returned the compliment by saying, "No friend will matter more in realising India's economic dreams than Japan" after their hour-long summit following which the two countries signed 16 agreements.
Later, the bonhomie between the leaders was in full display at the historic city of Varanasi, the Lok Sabha constituency of Modi, where Abe was witness to a dazzling display of the Ganga aarti at the Dashashwamedh ghat.
For India, the biggest achievement was the "agreement" for the civil nuclear pact which came after more than five years of protracted negotiations.
Once the pact is vetted by legal and technical teams of the two countries, it will head for approval from the Parliament in Japan.
Abe — whose country was devastated by two atomic bombs during the World War II — referred to India's stand that it would continue a moratorium on nuclear tests and advance its use of nuclear energy for peaceful purposes.
When asked what would happen to the pact if India went for a nuclear test, an official spokesperson of the Japanese government said, "We don't think India would test again. If it does, naturally, we will have to review the cooperation."
Also Read | Now, visa on arrival for Japanese tourists in India from March 2016
The pact will help India realise its ambitious plans to quadruple its present 5,000 megawatts of nuclear power to 20,000 megawatts by 2020 to meet the energy demands of its growing economy.
Japan also committed $12 billion of soft loans to build India's first bullet train, for which the total cost is estimated to be $15 billion.
"Japan has offered a highly concessional loan at an interest rate of 0.1% with repayment over 50 years and a moratorium for 15 years," Indian foreign secretary S Jaishankar said. Modi announced India extending the 'visa on arrival' scheme to Japanese citizens including for business purpose from March 1. Japan also pledged $12 billion Japan-India fund for the Make in India initiative and would look at setting up Industrial townships in the country.

Also Read | India-Japan sign major deals: Full text of joint statement
Close Story
Personalise your news feed. Follow trending topics