Jallikattu allowed: Centre makes arrangements for bull-taming in TN
Jan 08, 2016 11:25 AM IST
The Centre has made arrangements for the popular but controversial bull-taming sport Jallikattu to be held in poll-bound Tamil Nadu despite strong protests from animal rights activists, agencies reported on Friday
The environment ministry issued new guidelines on Friday allowing the popular but controversial bull-taming sport Jallikattu to be held in poll-bound Tamil Nadu, overriding protests from animal rights activists following a strong political push for the banned traditional event.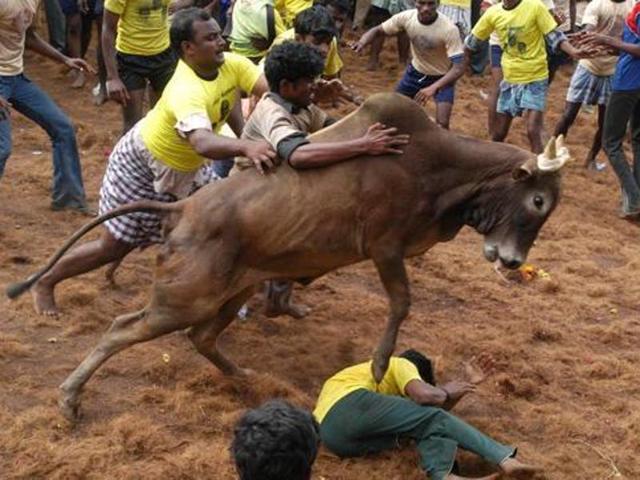 The new norms ban exhibition sports involving bears, lions, tigers, panthers, monkeys but provides an exception for bulls, saying bullock cart races and Jallikattu can be held if they adhere to the new rules.
Read more: Don't lift Jallikattu ban, attorney general tells government
Under the rules, permission has to be given by the district collector or magistrate and bullock cart races must be held on a proper track. Bulls, once they leave the enclosure, have to be tamed within a radial distance of 15 metres, the government order said.
The sport that has been an integral part of Pongal festivities was banned by the Supreme Court in 2014, following demands from rights groups who pointed to animal cruelty and human deaths during the event. HT had reported on January 2 that several activists had called a proposal to allow Jallikattu a political stunt.
"Thank our PM for facilitating this to happen.I thank everyone who supported #Jallikattu," Union minister of state for roadways Pon Radhakrishnan told news agency ANI.
Thousands of people erupted in joy, especially in Palamedu in Madurai and Tiruchirapalli that host the event, as people burst crackers and broke into song and dance in public, flashing victory signs.
The new guidelines came after a massive campaign by farmers associations, villagers and a host of cultural and social organisations, which was backed by all political parties.
Tamil Nadu chief minister J Jayalalithaa recently wrote to Prime Minister Narendra Modi backing the sport, which wasn't held last year for the first time in decades.
As news spread, leaders jostled for credit with VCK leader Thirumavalanan thanked Modi, Radhakrishnan and environment minister Prakash Javadekar for honouring the sentiments of the people of Tamil Nadu.
"He said even though the central government decision could be politically motivated, in view of forthcoming assembly elections, the centre must be thanked for allowing Jallikattu," the VCK leader said.
Even the Congress and the CPI(M) welcomed the decision.
Breakaway Congress leader GK Vasan of the Tamil Maanila Congress lauded Radhakrishnan's role.
"The government now should ensure that all safety precautions be observed and cruelty to animals prevented, and that the sport is held every year as per customs and traditions," he said.
MDMK leader Vaiko too thanked the centre government and said even though the state government failed to do anything, the central government stepped in.
BJP state unit chief Tamilisai Soundarrajan said the people of Tamil Nadu were very happy with the Modi government for honouring traditions and culture of the state.
(With inputs from agencies)