Jallikattu on hold: SC stays govt notification to allow bull taming
The Supreme Court stayed on Tuesday a central government notification that paved the way for a return of the banned bull taming sport Jallikattu, effectively scuttling plans of staging the event during Pongal celebrations in Tamil Nadu later this week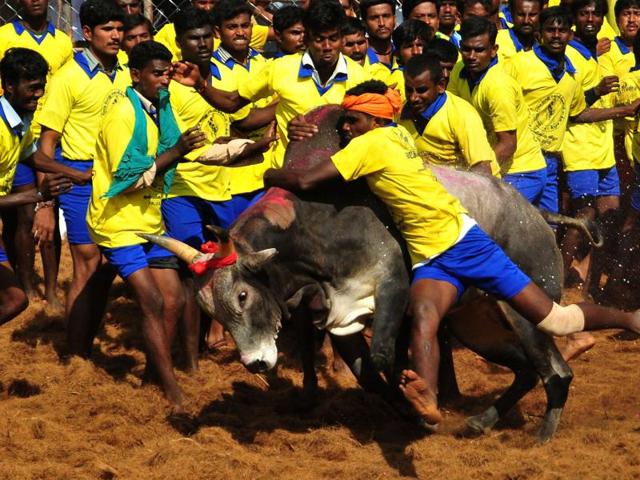 Updated on Jan 12, 2016 01:54 PM IST
The Supreme Court stayed on Tuesday a central government notification that paved the way for a return of the banned bull taming sport Jallikattu, effectively scuttling plans of staging the event during Pongal celebrations in Tamil Nadu later this week.
The top court also issued notices to the Centre, Tamil Nadu and other states where the controversial sport is played, days after the environment ministry issued new guidelines that permitted the popular event to go ahead, overriding protests from animal rights activists and the law ministry.
The sport that has been an integral part of Pongal festivities was banned by the Supreme Court in 2014, following demands from rights groups who pointed to animal cruelty and human deaths during the event.
The new norms triggered howls of protests and animal welfare organisations -- including the animal welfare board – filed a clutch of petitions in the court.
But the Centre objected to the pleas, saying no fundamental right of the petitioners were violated and questioned the maintainability of the petitions. The court also issued a notice on whether the petitions could be heard or not.
Both the Centre and the Tamil Nadu government assured the court that the new notification underlined safety measures and precautions to be taken during the festival.
Under the rules, permission has to be given by the district collector or magistrate and bullock cart races must be held on a proper track. Bulls, once they leave the enclosure, have to be tamed within a radial distance of 15 metres, the government order said.
The new norms came after a concerted political push by parties in the poll-bound Tamil Nadu, where the banned sport has a strong connection with thousands of people who view it as a part of their culture.
Chief minister J Jayalalithaa had written to Prime Minister Narendra Modi, backing the sport, which wasn't held last year for the first time in decades.
Close Story
Personalise your news feed. Follow trending topics